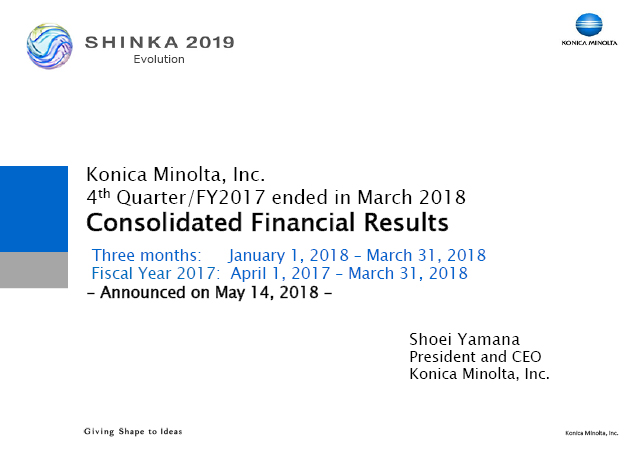 1/23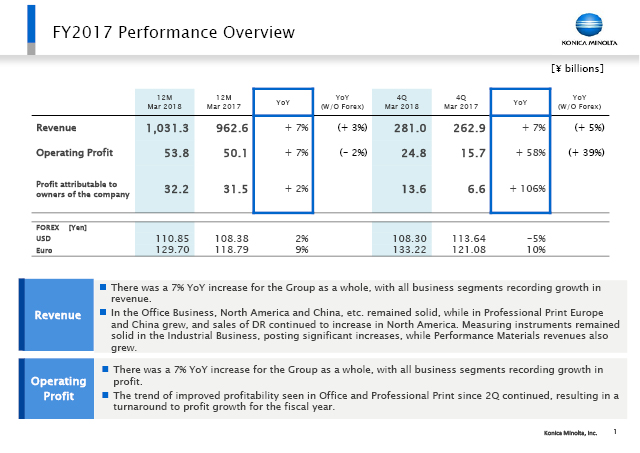 I would like to present the financial results for the fiscal year ending March 31, 2018. Revenue was ¥1031.3 billion, up 7% year on year. Operating profit was ¥53.8 billion, up 7% year on year, while profit attributable to owners of the company was ¥32.2 billion, an increase of 2%, making this a year of increased revenue and increased profit. The right-hand side also shows 4Q results. The year-on-year growth rate in 4Q was especially high in operating profit and profit attributable to owners of the company. As I will explain later, the revenue increase was across all business segments, resulting in the 7% revenue increase. The Office Business showed particular growth in North America and China, and the Professional Print Business in Europe and China. In the Healthcare Business, the revenue increase was driven by DR sales in the US, in the Industrial Business, by sales of measuring instruments throughout the year, and in performance materials, by high value-added sales. In operating profit, as well, there were increases in all business segments. The Office Business and Professional Print Business in particular showed improved profitability since 2Q, contributing effectively to a turnaround to profit growth for the fiscal year.
2/23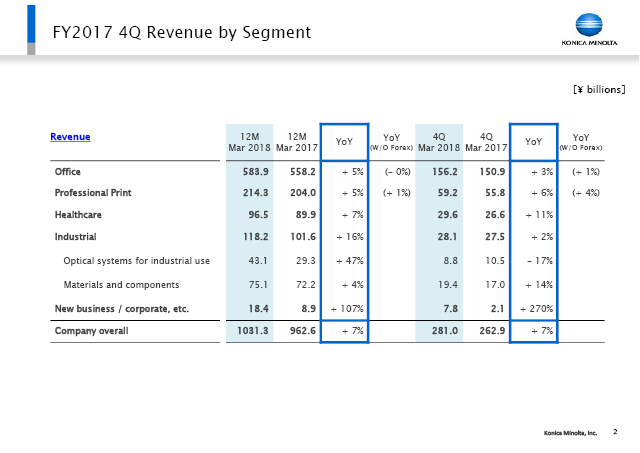 This page shows growth in revenue by business segment. For the full year, optical systems for industrial use showed 47% growth in revenue, driven in particular by the measuring instruments business unit. 4Q was distinguished by a 6% year-on-year increase in the Professional Print Business, 11% in Healthcare, and 14% in the field of materials and components, driven by performance materials in particular.
3/23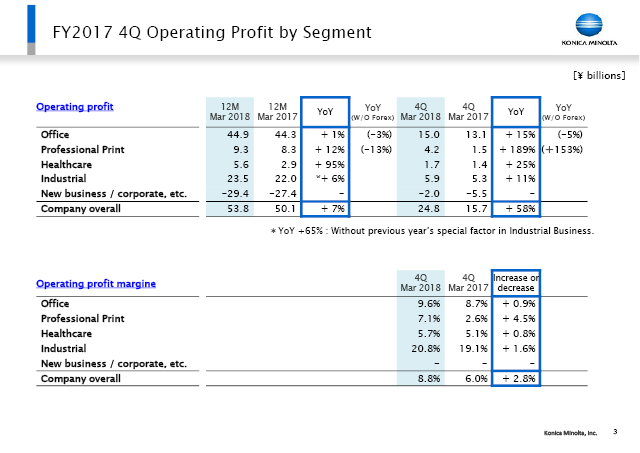 This shows operating profit by business segment. There is a note on the Industrial Business comparison with the previous year indicating that there were patent expenses recorded as special factors in that year. When these special factors are excluded, the profit increase amount was 65%. The operating profit ratio in the Office Business was 9.6%, in the Professional Print Business 7.1%, and in the Industrial Business 20.8%, indicating overall improvement.
4/23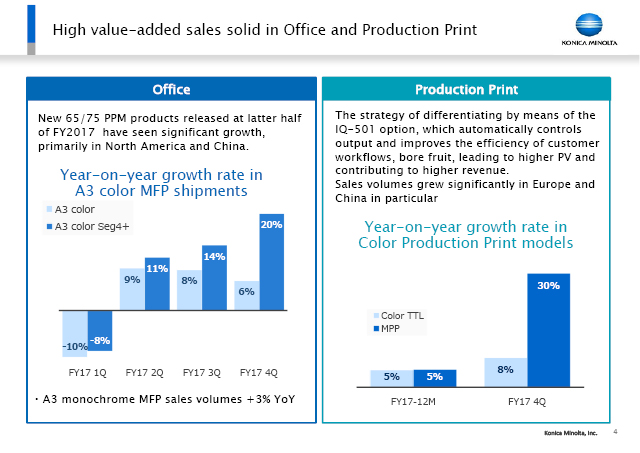 Here I would like to focus my explanation specifically on highlights in our businesses. In the Office Business, the new color Seg4+ product we launched in the second half has shown significant growth worldwide, and particularly in the US and China. As shown in the graph, we started in 1Q with a decrease in year-on-year sales volume, but from 2Q on, color Seg4+ sales expanded to match or exceed the growth rate for color as a whole. With performance in new products during the second half in particular, unit sales achieved 20% growth in 4Q. Monochrome MFP sales also increased 3% over the year. The market is said to be trending toward deceleration in the growth rate for color products and a major decline in monochrome products. In our case, however, monochrome unit sales throughout the year grew 3% over the previous year, something that could not be achieved simply by a replacement of monochrome with color products. As we see it, these results show the effectiveness of our high value-added efforts in what we call hybrid sales, which place color and monochrome products optimally within the business as a whole and further combine them systematically with IT services.
In the Professional Print Business, there was some effect from new products in the second half in the MPP (Mid Production Printer), which is the medium- to high-speed product on which we have been concentrating our greatest efforts. In combination with that, our strategy of product differentiation using the company's unique IQ-501 option unit has been a success. The IQ-501 automatically controls position alignment and color management digitally, which is of great importance in the printing industry, and this provides exceptionally high added value. This differentiation strategy contributed to unit sales, particularly in 4Q, where we can see that MPP achieved a year-on-year sales volume increase of 30%.
5/23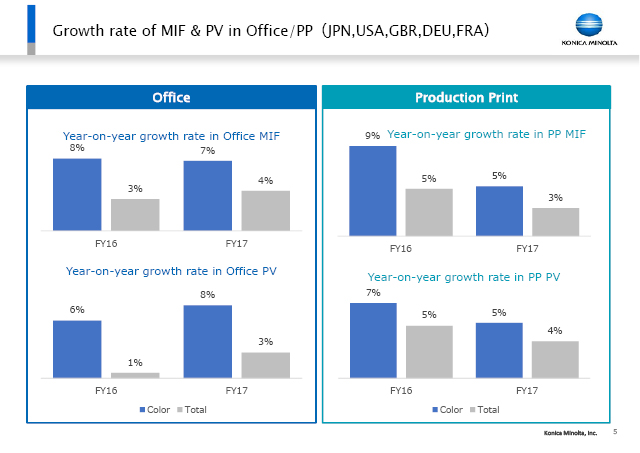 This page shows the year-on-year changes in our respective Office Business and Production Print Business figures for MIF (Machines In the Field) in five advanced nations together with the resulting PV (Print Volume). In Office in FY2017, our MIF for color showed 7% growth and the total figure including monochrome showed 4% growth. Our PV figures showed an 8% increase in color and the total PV including monochrome showed a 3% increase.
Recently there have been reports that less printing is being done in North America because of people going paperless or printless and adopting digital technologies. Our strategy, however, centered on hybrid sales increases in MIF. There is also a shift to medium- to high-speed products such as Seg4 with its high PV per unit as a component of that MIF. When IT solutions for the customers are added, this strengthens their medium- to long-term engagement with us so that, as I understand it, we can also increase PV. There is also a regional strategy to bring further growth in Eastern Europe, China, and India. In North America the color ratio is just over 50%, so we think there are further opportunities for increases in North America, as well.
In the Production Print Business, MIF has increased similarly by 5% in color as well as by 3% in the total that includes monochrome. PV also increased by 5% in color and 4% in the total that includes monochrome. As I mentioned just now, in the Production Print Business the number of MPP units installed increased 30% in 4Q. This will begin to have an effect on PV in FY2018 and beyond, so we intend to ensure that this PV increase does occur.
Just for your reference, our non-hard revenue from the Office Business in North America showed a 1% rise in 4Q. This is the PV increase multiplied by the PV unit price.
6/23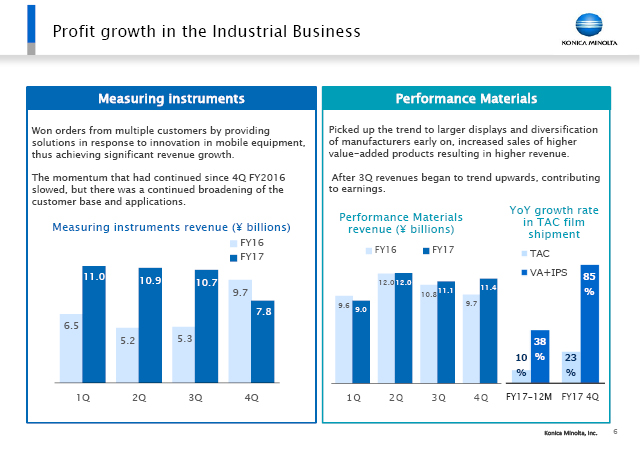 Next I will talk about our measuring instruments business unit. Our distinctive high-performance optical measuring instruments, which can deal with OLED products, began being adopted in 4Q of FY2016 and this has continued up to 3Q of FY2017. Revenue in 4Q was ¥7.8 billion, making this the only segment showing a year-on-year decline in revenue. However, this ¥7.8 billion is not only from our existing global major customers in North America, but also from additional corporations in China and South Korea, indicating that our customer development is advancing. Measuring instruments are also being increasingly used for new applications other than television. In FY2018, the present investment in OLED is expected to turn down temporarily, but we intend to sustain our efforts to expand the range of applications as well as to expand the number of customers.
In performance materials, we saw revenue return to a positive YoY growth rate in 3Q of FY2017. As shown on the right-hand side here, this upturn in revenue occurred in part because of the 23% increase in the sales volume of TAC as a whole in 4Q. There was also the 85% increase in 4Q sales volume of VA-TAC and IPS-TAC, which are high value-added products we have been concentrating on.
7/23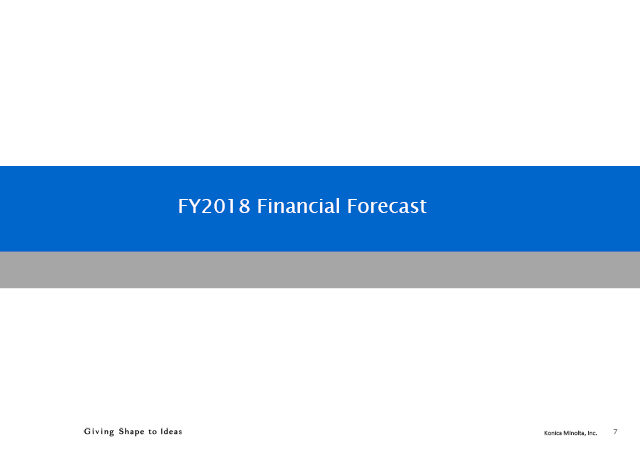 8/23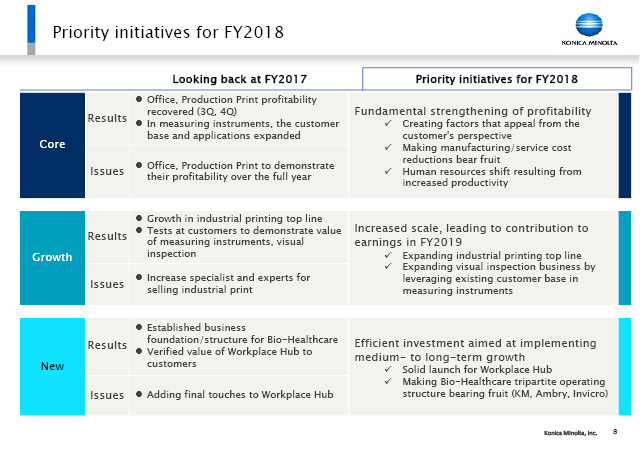 In our core businesses, which are centered on the Office Business and Professional Print Business, we are engaging positively in the priority measures addressed in our Medium Term Business Plan in order to further strengthen our earning power. Regarding growth businesses, we will be arranging to make upfront investments in FY2018 so as to begin yielding a certain level of results in FY2019, which is the final fiscal year of our three-year Medium Term Business Plan. Meanwhile, in new businesses, our target is to make a major contribution to our business not in FY2019, but in FY2021. For that purpose, we will continue pressing forward in FY2018 without cutting necessary investment, even though this involves front-loading some costs.
9/23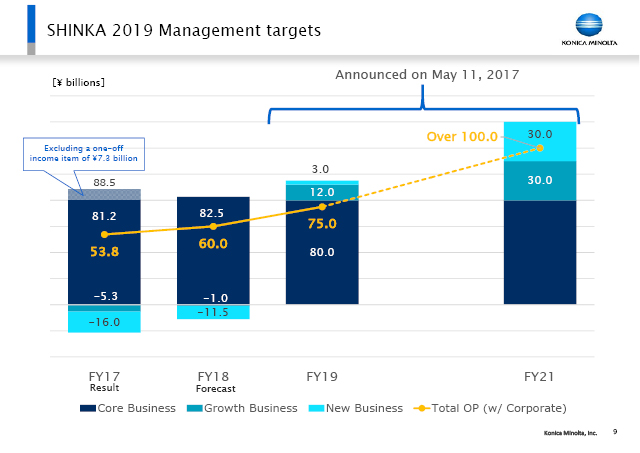 This page shows the respective contributions that core, growth, and new businesses make, as components of profit. In our core businesses, first of all, our FY2017 operating profit was ¥81.2 billion when a one-off income item is excluded, and we forecast ¥82.5 billion in FY2018. Meanwhile, the negative figures of ¥5.3 billion and ¥16.0 billion in our FY2017 results represent front-loaded expenses intended to produce future revenue from our growth and new businesses. We expect that we can reduce these elements in FY2018. The forecast for FY2018 operating profit is at ¥60.0 billion.
The make-up of components shown here for FY2019 and FY2021 remain unchanged from the figures we announced in May of last year for our Medium Term Business Plan. I intend to hold a management policy briefing on this around September of this year and explain our thinking on this myself. In any event, since we will hold firm in doing what it takes to expand our core business profit by FY2019, we are sticking to the figure of ¥75.0 billion that we announced for FY2019 operating profit. We will heighten this probability by expanding core business profit, and in growth and new businesses, we are intending to bring about growth in corporate value over the medium-to-long term by putting our expenses to meaningful use with a view to FY2021.
10/23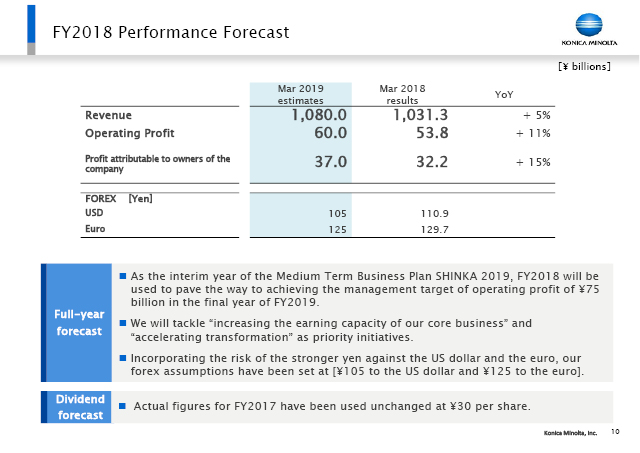 This page shows the FY2018 performance forecast. The FOREX assumptions are ¥105 to the US dollar and ¥125 to the euro. We forecast that revenue will rise to ¥1.08 trillion, a 5% increase of this fiscal year, and operating profit will rise to ¥60.0 billion, an 11% increase. Profit attributable to owners of the company is forecast to rise to ¥37.0 billion, a 15% increase. We expect that dividends will again be ¥30 per share in FY2018.
11/23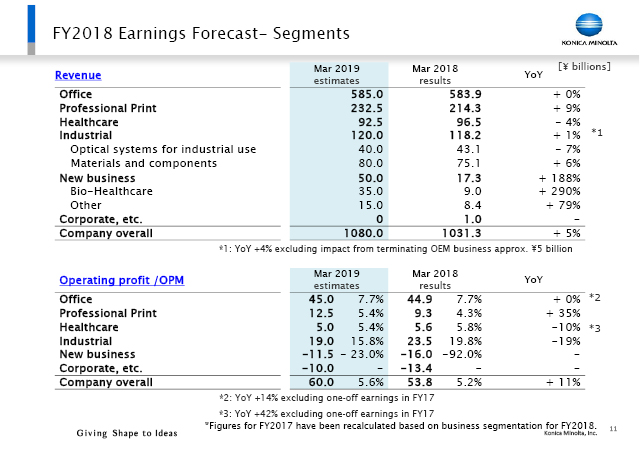 This shows the status of revenue and profit by segment in FY2018. First of all, revenue can be affected by exchange rates, and we are anticipating revenue to increase in the Professional Print Business and in the materials and components field, including the performance materials business unit, as I explained earlier. Optical systems for industrial use, which centers on measuring instruments, is expected to show a 7% decrease. The "Other" item under new business includes status monitoring of MOBOTIX, which we acquired in Germany, and new business revenue is expected to be ¥50.0 billion.
In operating profit, the Office Business operating profit is expected to be ¥45.0 billion. Although this may appear to have hardly changed from the previous fiscal year, there was in fact a one-off income in 2017. When that is excluded, therefore, we see an actual year-on-year increase of 13.5%. In the Professional Print Business we expect a 35% increase and in the Industrial Business, taking measuring instruments into account, we are looking at a negative figure of -19%. Meanwhile, the Healthcare Business appears to show a 10% decrease in operating profit, but when the previous fiscal year's one-off income item is excluded, we see an increase of 42%.
12/23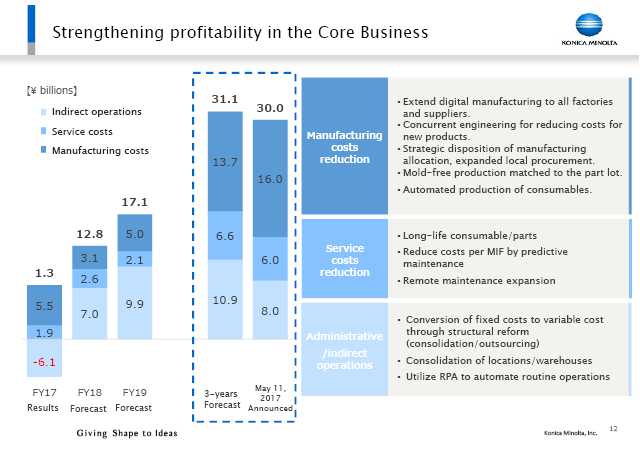 In our Medium Term Business Plan, we said that we would take measures to improve the profitability of our core businesses by ¥30.0 billion over three years. The result for FY2017 was ¥1.3 billion, for FY2018 it will be ¥12.8 billion, and for FY2019 we forecast ¥17.1 billion. The total for these three years therefore comes to ¥31.1 billion.
One difference from the initial targets in our Medium Term Business Plan is the fact that manufacturing costs did not go down when production sites were transferred from China into other parts of Asia in 1Q of FY2017. The impact on manufacturing costs will diminish over the three-year period. In administrative and indirect operation costs, the structural reform we had planned for FY2018 was moved forward so that FY2017 showed a negative figure of -¥6.1 billion. However, we expect the effectiveness of the measure to emerge from FY2018 on. We are now planning structural reform in Europe, as well, which we expect to improve profitability by ¥7.0 billion in FY2018 and by approximately ¥10.0 billion in FY2019.
13/23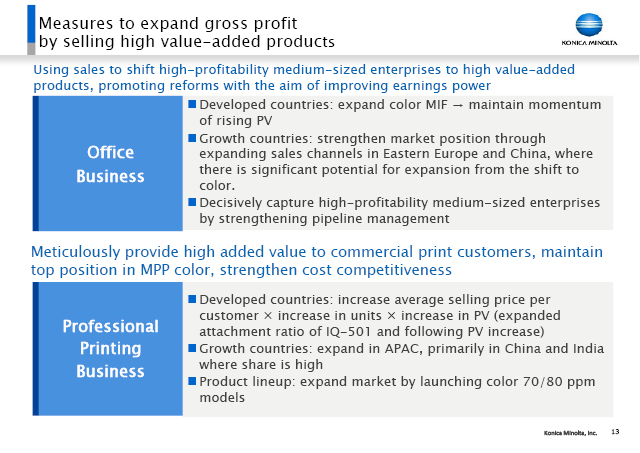 We plan to implement solid measures to heighten the probability for improvement of our earning power in our core businesses. One thing we can do is to reinforce the expansion in gross profits from high value-added sales. As I said just now, opportunities to expand MIF still exist even in the advanced nations. The percentage of the market that has shifted to color (the color ratio) in the US is about 50%. We will strengthen our activities in Eastern Europe, China, India, and other such areas. We are determined to produce definite results from our hybrid sales.
In Professional Print Business, we have been taking steps to further strengthen our MPP position in the advanced nations. In addition, we also introduced new products in the LPP (Light Production Printer) field in April. This is a measure to expand profit from sales in LPP as well as in MPP, and we will pursue this with a particular focus on China and India.
14/23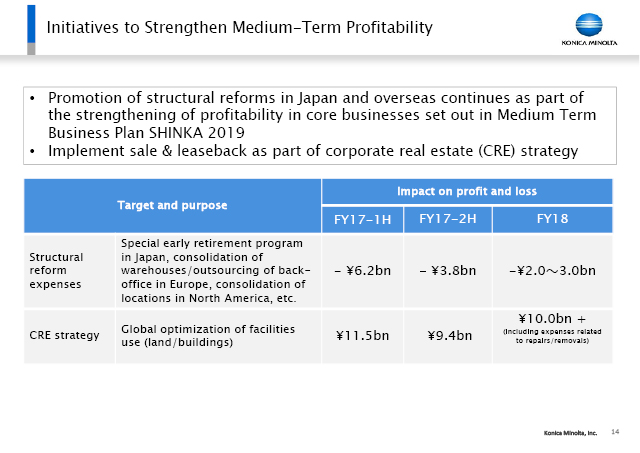 Here we see figures relating to the structural reforms and to the CRE strategy that we are pursuing this fiscal year. In FY2017, we invested ¥10.0 billion in structural reform expenses over the first and second half together. That has already been effective and has produced ¥4.1 billion. The result with all the positives and negatives accounted for is the negative figure of -¥6.1 billion that we saw in administrative and indirect operation costs on an earlier page (P12). We plan to carry out structural reform in 1Q of FY2018 in Europe, as well, and as indicated here, we expect the figure for that to be over ¥2.0 billion.
The CRE strategy produced results of ¥20.9 billion throughout FY2017. For FY2018, we have built in over ¥10.0 billion to our present plan and issued a forecast of the results.
15/23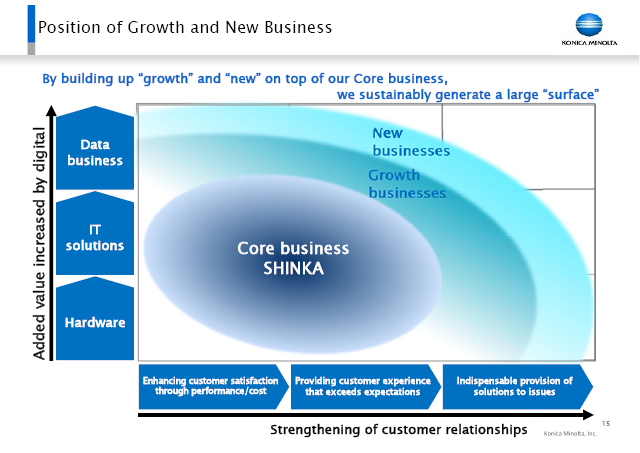 While our Medium-Term Business Plan categorizes our businesses as core, growth, and new, these are not totally different things. Strengthening a core business further expands and evolves our customer base. Our idea is to build up our growth businesses and new businesses on top of the core businesses to generate a large "surface" of the businesses and leverage it to help sustain our business value creation. IT solutions solve customers' problems, but more than that, engaging in a full-fledged data business centered on Workplace Hub is a key approach for our aim of adding value through the digital.
In addition to satisfaction from performance and cost, we will add a factor of appeal that exceeds expectations to our products, software, and solutions. Expanding our corporate portfolio with businesses that provide the essential element of resolving social issues is precisely what we think constitutes high added value in a digital age.
16/23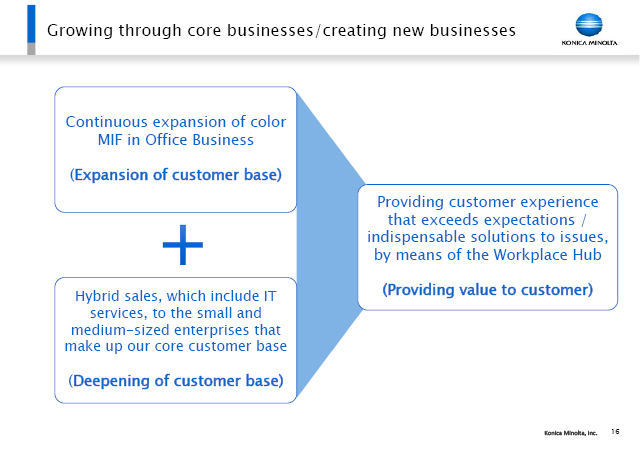 Building on this approach, we will initiate a full-scale launch of Workplace Hub starting in FY2018. While we position Workplace Hub as a new business, it is building on the base of our important Office Business customers as well as our hybrid strategy to expand that base. In addition, it is a new platform that can take full advantage of our human resources and know-how for providing the IT solutions that we have engaged in up to now. We will ally this with solutions in a category of business that adds something extra that goes beyond Office Business documents. We are moving forward with this as a specialized segment that provides new customer value and customer experience, and that addresses security and work-style reform for small to medium-sized customers, in particular, as well as other such social issues.
17/23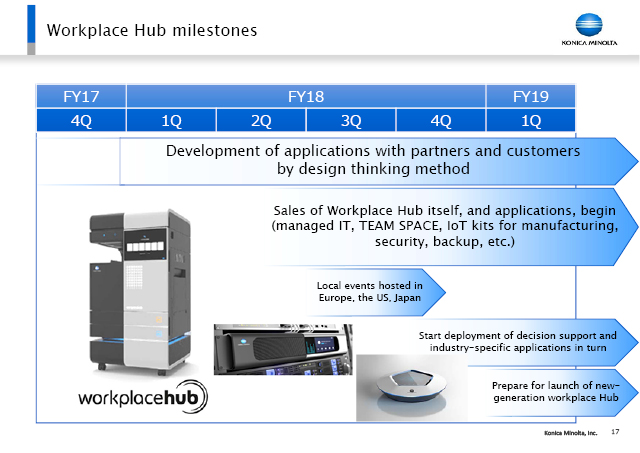 This page shows a timeline for the Workplace Hub. We start actual sales in the major countries of Europe and the US in 2Q of FY2018, more specifically from late July or early August. We are currently at the stage of conducting trial sales at customer locations where we have delivered the actual equipment. We plan to start sales in Japan, other parts of Asia, and so on, later this year. At the same time that we start full-fledged sales in 2Q this year, in the second half we are going to further enhance our applications and start gradually deploying specific solutions geared to different operations, such as support for decision-making. We are planning to hold a business briefing on Workplace Hub at a later date.
18/23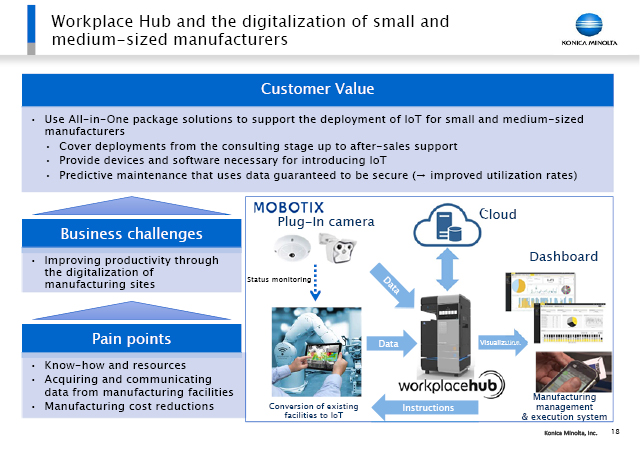 Our customers include many small to medium-sized manufacturers. For example, our sales company in Germany has approximately 4,000 small to medium-sized manufacturers as customers for digital MFP. Those 4,000 customers can handle digital information in their plants by using a Smart Start package. When Workplace Hub is set up as a core, then software and sensors are already incorporated through alliances, and they can make use of our MOBOTIX for surveillance of conditions and for monitoring people's actions. This can also be combined with visual inspections and so on in the measuring instruments business unit. At the Hannover Messe trade show in April, we started business negotiations on digital manufacturing for small to medium-sized manufacturers that is built around Workplace Hub as the core.
19/23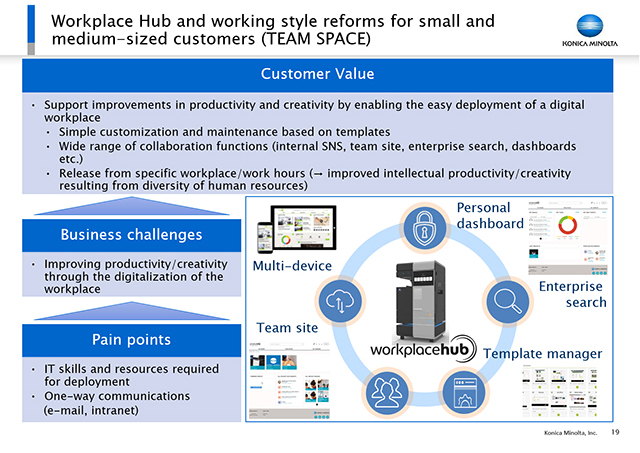 Workplace Hub also has a specific solution for these small to medium-sized customers, meaning our valuable customer base, with a focus on work-style reform. It is called TEAM SPACE.
20/23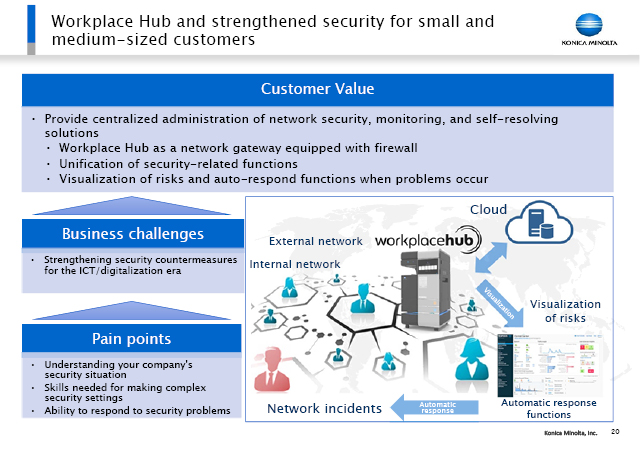 Security is a crucial concern of small to medium-sized enterprises, and these are the enterprises that make up our customer base. Starting with this fiscal year, we will be engaging in full-scale provision of Workplace Hub packages with methods for resolving security-related issues. We are also making a commitment to the results.
21/23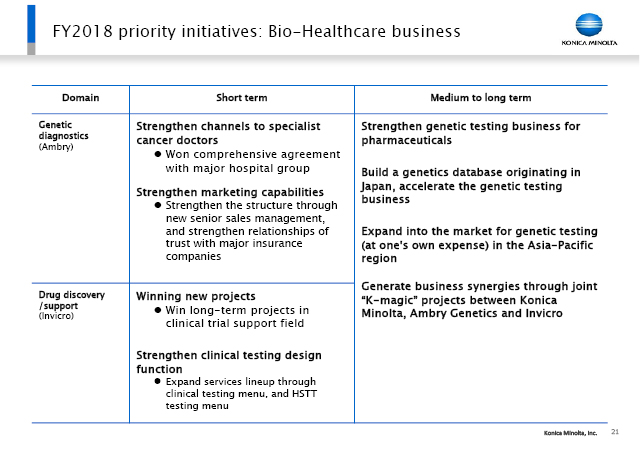 The Bio-Healthcare Business is another segment to look at here. This Bio-Healthcare Business occupies an extremely significant position for management in terms of making a shift in our portfolio over the medium to long term. Ambry has genetic counselor channels for genetic diagnosis, an area where that company currently occupies an overwhelmingly strong position. For the short term, we are moving to strengthen the channels to cancer specialist physicians. We just finished appointing executives there in a new structure intended to strengthen the company's sales capabilities, and this includes building relationships of trust with insurance companies. Invicro is a corporation that provides pharmaceutical development and support, and it has won projects for clinical trial support in addition to its former role in stages leading up to clinical trial. In the clinical area, Invicro is incorporating Ambry's genetics and our HSTT (High Sensitive Tissue Testing) in a near-term move to strengthen its support business with the addition of genetics to pharmaceutical development.
In the medium to long term, we will make a start on accelerating the genetic testing business in Japan from FY2018. In Japan, however, there are other external factors to consider, such as insurance reimbursement, and in FY2018 we will start offering testing at hospitals in Singapore and Japan to be provided as a medical procedure not covered by health insurance for the wealthy from China and the Middle East. The three-way synergy of Konica Minolta, Ambry, and Invicro is something we definitely want to strengthen in the medium to long term.
22/23
This is the final slide. I have already talked about our operating profit and profit attributable to owners of the company. The forecast for ROE is 6.9%. We are going to augment our capital investment slightly, and also increase our R&D expenses by ¥3.0 billion. This increase is something we consider essential for us as we head toward FY2019 and FY2021, and we intend to eventually use a total of ¥80.0 billion in R&D expenses. Meanwhile, whereas investment and lending exceeded ¥100.0 billion in FY2017, we are planning on ¥30.0 billion for this fiscal year. Operating profit is set at ¥60.0 billion. Taking CRE and structural reform into consideration, however, and the fact that we are taking measures to raise the profitability of our businesses, given the situation in 4Q, we will be seeking to surpass ¥60.0 billion and aiming for ¥65.0 billion.
Looking at 1Q of FY2018, the sensing business showed a year-on-year decrease, in addition to which expenses were incurred for full-scale Workplace Hub preparation. We also have the medium- to long-term measures that I described earlier in the Bio-Healthcare Business, and we will be spending sufficiently to make sure we obtain results in the near term. In a year-on-year comparison, therefore, while we consider things to be slightly tight in terms of the company plan, we are proceeding with preparations to ensure that our FY2018 CRE can be adequately achieved in 1Q.
23/23