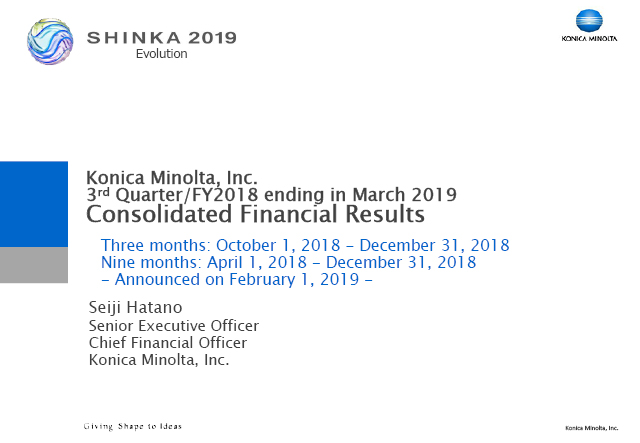 1/18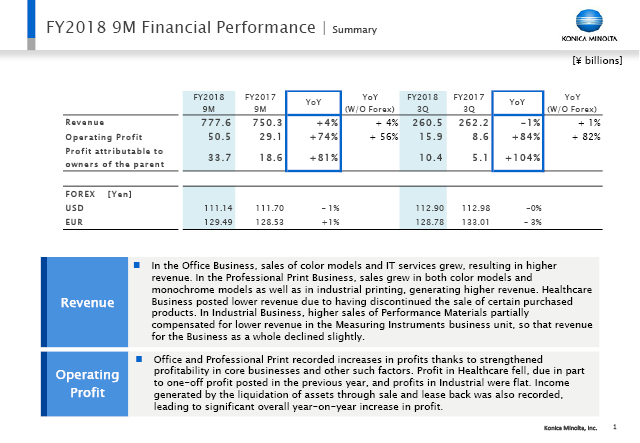 An overview of FY2018 3Q results has been provided on the first page.
Revenue for the first nine months of FY2018 came to ¥777.6 billion, an increase of 4% year on year. With the further addition of the higher income generated by the liquidation of assets through sale and lease back, operating profit rose to ¥50.5 billion, a year-on-year increase of 74%, and equivalent to approximately 80% of the full-year operating profit forecast of ¥64.0 billion. Profit attributable to owners of the parent amounted to ¥33.7 billion, which also constituted significant growth in profit.
In 3Q, revenue fell by 1%, but effectively grew by 1% to ¥260.5 billion after excluding the impact of forex.
In addition to growth in profits from the business itself, operating profit was also affected by the liquidation of assets through sale and lease back, rising by 84% year on year to ¥15.9 billion, while profit attributable to owners of the parent was ¥10.4 billion.
2/18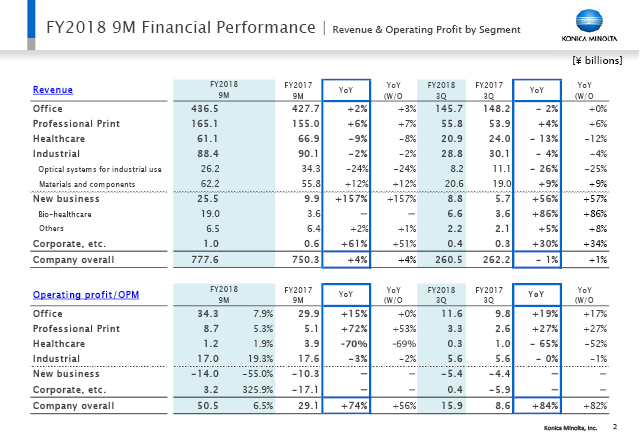 In terms of revenue by segment for the first nine months, the Office Business, Professional Print Business and New Business all recorded higher revenue, the latter due to the first consolidation of newly acquired businesses, while the Healthcare Business recorded lower revenue as a result of discontinuing the sale of certain purchased products. The Industrial Business saw a mix of decreases in the field of optical systems for industrial use and increases in materials and components, leading to a slight decline overall. 3Q revenue showed little change in trend, with the Professional Print and New Business continuing to show increases, the Office Business ending up flat year on year, and Healthcare and Industrial Businesses recording declines.
Operating profit by segment for the first nine months includes some one-off factors in some segments, which are explained in the following slide. In 3Q, the Office Business and Professional Print Business posted significant increases in profit, while Industrial Business was flat and Healthcare Business decreased.
3/18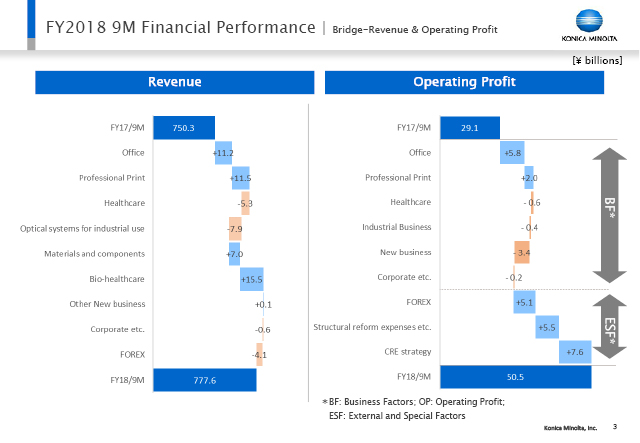 This slide shows revenue and operating profit by segment for the first nine months, after excluding the effects of external and special factors such as forex, the liquidation of assets through sale and lease back, and structural reform expenses.
I have already explained revenue, so I will omit that here. Excluding forex and other special and external factors, operating profit for the first nine months in the Office Business rose by ¥5.8 billion, driven by the continuing effects of various measures to strengthen profitability. We also continued to implement measures to strengthen profitability in the Professional Print Business' core business of production print, leading to an increase in profit of ¥2.0 billion. Although the Healthcare and Industrial Businesses posted small declines in profit, the core and growth businesses as a whole recorded a total profit increase of ¥6.8 billion.
While Workplace Hub sales started, profit from New Business declined as a result of, among other factors, an increase in expenses associated with the launch of the Bio-healthcare business in Japan and the effects of various related measures taken being behind schedule.
The status of structural reform expenses and CRE strategy will be explained on the next slide.
4/18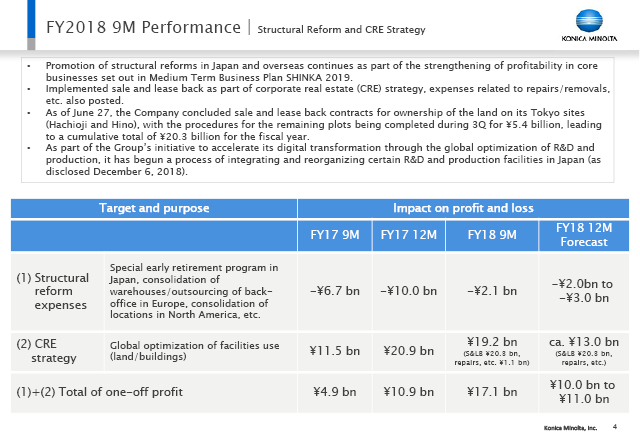 In the first nine months, about ¥2.1 billion of the ¥2.0 billion to ¥3.0 billion of structural reform expenses forecast for the full year was recorded. In the same period of the previous fiscal year about ¥6.7 billion was posted, mainly for Japan, and that portion will result in improvements of ¥4.6 billion this fiscal year.
There has been no change in our full-year estimate for income and expenses in relation to the CRE strategy. However, with regard to the ¥20.1 billion in gains for the full year that was expected from sale and lease back contracts concluded by the Company for ownership of the land of the Company's Tokyo sites (Hachioji and Hino), as disclosed on June 27, 2018, procedures for the handover of the remaining plots proceeded satisfactorily. This resulted in ¥5.4 billion being posted in December, and all procedures have now been completed, with the posting of a final gain of ¥20.3 billion.
In addition, ¥1.1 billion in expenses related to repair/removals, etc. was posted in 1Q, so the net impact for the first nine months is ¥19.2 billion. In the same period of the previous year approximately ¥11.5 billion was recorded, so this portion has generated an additional ¥7.6 billion or so in profit.
As part of the Group's CRE strategy-related initiatives to accelerate its digital transformation through the global optimization of development and production, it has begun a process of integrating and reorganizing certain facilities of this type in Japan where those functions have been located in multiple facilities and sites (as disclosed December 6, 2018).
5/18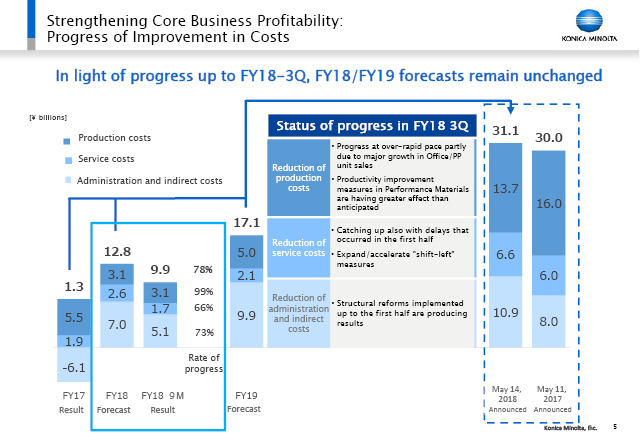 With regard to the initiatives for cutting production, service, and administration & indirect costs as part of the strengthening of core business profitability, the total for these came to ¥9.9 billion in the first nine months. This progress is equivalent to 78% of the total ¥12.8 billion estimated for the full year, and is in line with projections.
Along with the significant growth in unit sales for the Office Business and production print, the expanded effect of measures such as digital manufacturing resulted in steady progress in production costs. In addition, productivity improvements in performance materials led to greater than anticipated effects, and is currently at a 99% of the overall forecast total, well ahead of projections.
With regard to service costs, materials costs increased due to sales of MPP color products and the resulting growth in MIF, resulting in slow progress in the first half, but we have caught up and are now at 66% of the full-year figure.
The effects of structural reforms implemented up to the end of the first half have started to appear in administration & indirect costs, resulting in a positive impact, net of structural reform expenses, of ¥5.1 billion, which is progress equivalent to 73% of the target.
There has been no change to forecasts for the year as a whole.
6/18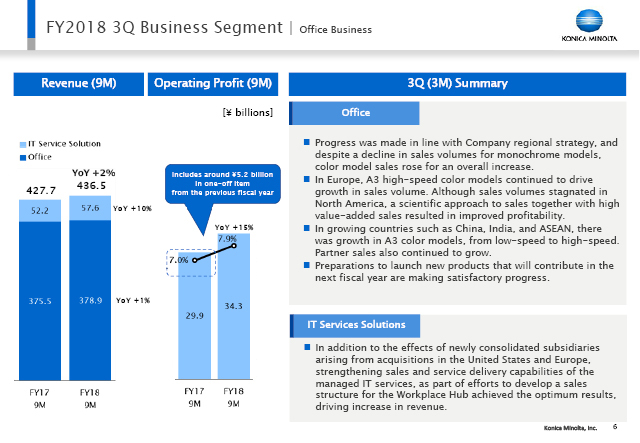 I will now discuss the situation in 3Q by business segment in turn.
First, the Office Business is progressing in accordance with the objectives of the regional strategy being pursued by the Company. Despite declines in monochrome sales volumes, color unit sales are rising, and A3 MFPs as a whole are posting overall year-on-year growth.
Europe continued to drive sales volumes of A3 high-speed color models. Although sales volumes were stagnant in North America, profitability continued to improve thanks to a scientific, high value-added approach to sales there.
In growth countries such as China, Australia, India, and ASEAN nations, sales of color models increased significantly in all speed segments, and sales through our partner channels also rose considerably.
Launch preparations during the quarter for new products, which will contribute next fiscal year, made satisfactory progress.
As a result of the above, revenue in the office products business unit for the first nine months rose 1% to ¥378.9 billion.
In IT service solutions, in addition to the impact of newly consolidated subsidiaries in both the US and Europe, we saw positive results from reinforcing sales capabilities and strengthening service provision capabilities for managed IT services, undertaken as part of our initiatives to build a sales structure for Workplace Hub, and these drove revenue higher.
Accordingly, IT service solutions business unit revenue for the first nine months rose 10% to ¥57.6 billion.
7/18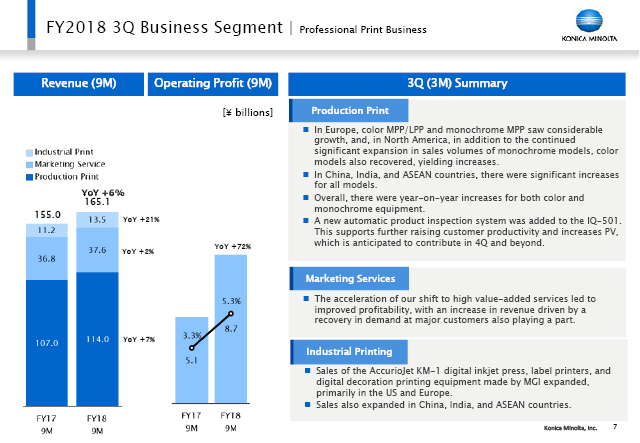 Next we will look at the Professional Print Business.
With regard to the core business of production print, in Europe, the top-of-the-line AccurioPress C6100 series continued to drive color MPP sales, in addition to which the new AccurioPress C3080 color LPP product that was launched in 1Q saw sales expand, while there was also considerable growth in monochrome models. As well as continued significant growth in monochrome sales volumes in North America, sales of color equipment recovered and year-on-year growth turned positive. Growth countries such as China, India and ASEAN nations continued to post considerable growth in sales volumes of both color and monochrome models. As a result, both color and monochrome models grew overall.
The development of the new automatic inspection system, to be offered as an option on the IQ-501, is progressing steadily, and will help printing companies to raise their productivity further, and increase PV, which is expected to contribute to earnings going forward.
The above resulted in production print revenue for the first nine months rising 7% to ¥114.0 billion.
In the marketing services business unit, an acceleration in the shift to highly profitable, high value-added services, and an increase in revenue driven by a recovery in demand at major customers, led to improved profitability. Revenue for the first nine months rose 2% to ¥37.6 billion.
In the industrial printing business unit, while continuing to invest actively, such as through adding highly specialized resources, we continued to grow sales volumes of high value-added equipment, such as the AccurioJet KM-1 digital inkjet press, label printers, and digital decoration printing equipment, primarily in the US and Europe. In addition, sales also expanded in China, India and ASEAN countries. As a result, revenue for the first nine months rose significantly, by 21% to ¥13.5 billion.
8/18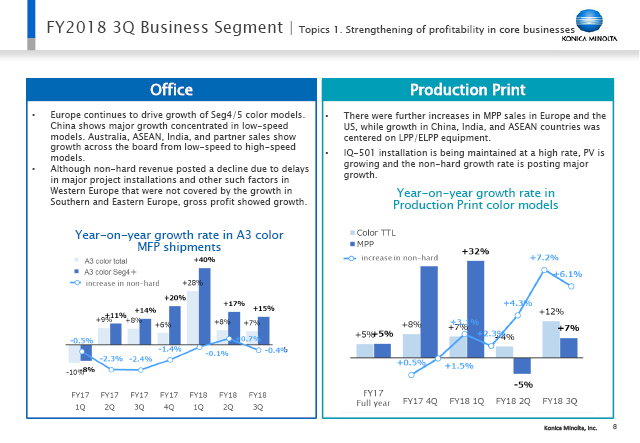 At this point, I would like to explain the status of initiatives to strengthen profitability in the core businesses of Office and production print.
For the Office Business, and I may be repeating myself to some extent, we saw continued growth in Europe and in the partner channel of sales of color Seg4/5, which generate more than half of non-hardware sales. In China there was significant growth, mostly on low-speed equipment, while in growth countries such as India and ASEAN nations, there was considerable expansion in all models from low-speed to high-speed, leading to overall growth in Seg4/5 of 15%, and overall growth in color models of 7%. Growth has persisted since 2Q of the previous fiscal year, and has also continued since 2Q of the current fiscal year.
As for non-hardware sales, we had anticipated growth of 1% for the full year, but Europe in particular has underperformed expectations. This was due to delays in the installation of major projects in western Europe, the impact of which could not be covered by the potential of southern and eastern Europe. However, gross profits for non-hardware continue to grow, and, on a profit basis, we are closing in our initial estimates.
In production print, the top-of-the-line AccurioPress C6100 series continued to drive growth in European MPP sales, in addition to which the new AccurioPress C3080 LPP product that was launched in 1Q also continued to record growth. In North America sales growth of MPP products persisted, whereas in China, India and ASEAN countries, sales are expanding primarily around LPP/ELPP products. Overall MPP sales recovered to grow at a rate of 7%, and overall sales expanded at 12%.
Non-hardware is being supported by the sustained high installation rates for the IQ-501, which has resulted in the significant growth in non-hardware being maintained.
9/18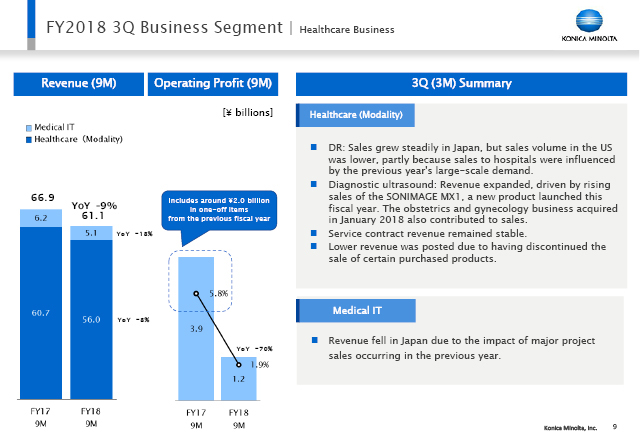 Next we come to the Healthcare Business, which in 3Q saw steady growth in DR sales in Japan. In the US, the previous year benefited from substantial demand helped by following winds such as that of the omnibus bill, which led to growth in sales to hospitals. This fiscal year we have experienced a reaction to that, and sales volumes have declined accordingly.
In diagnostic ultrasound systems, the new SONIMAGE MX1 product drove an expansion in sales, and both Japan and the US saw significant growth in a continuation of the first half.
The healthcare (modality) business unit posted nine-month revenues of ¥56.0 billion, a decline of 8%, but taking into account the discontinuation of certain purchased products with low margins, revenue was nearly flat year on year.
Medical IT revenue fell 18% to ¥5.1 billion, due to the impact of major project sales, etc. occurring in the previous year in Japan.
Operating profit for the Healthcare Business as a whole fell to ¥1.2 billion, due to one-off profits of approximately ¥2.0 billion posted in the same period of the previous year.
10/18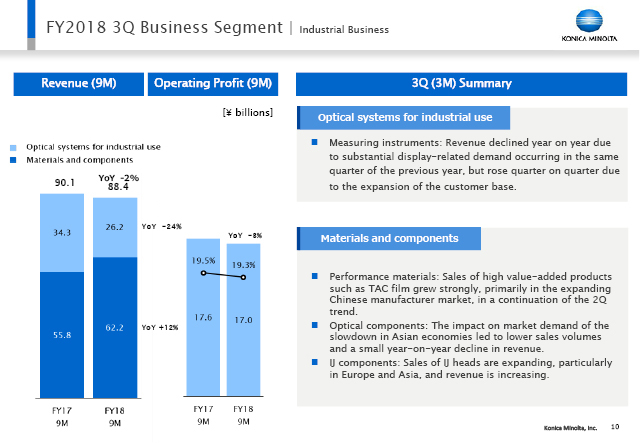 In Optical systems for industrial use, there was a temporary slowdown in the display-related demand that drove significant revenue growth in the measuring instruments business unit last fiscal year. Accordingly, revenues fell year on year, but grew quarter on quarter due to growth in the customer base. As a result, revenue for the first nine months decline 24% to ¥26.2 billion.
In the materials and components field, the strategy of shifting to high value-added products, such as new water-resistant VA-TAC films for large LCD TVs and ZeroTAC films for IPS panels bore fruit in performance materials, and business was strong in a continuation of 2Q.
In Optical components, the impact on market demand of the slowdown in Asian economies led to lower sales volumes and 3Q posted a small year-on-year decline in revenue.
Inkjet components recorded an increase in revenue due to higher sales of inkjet print heads, primarily in Europe and Asia.
As a result, materials and components revenue for the first nine months rose 12% to ¥62.2 billion.
11/18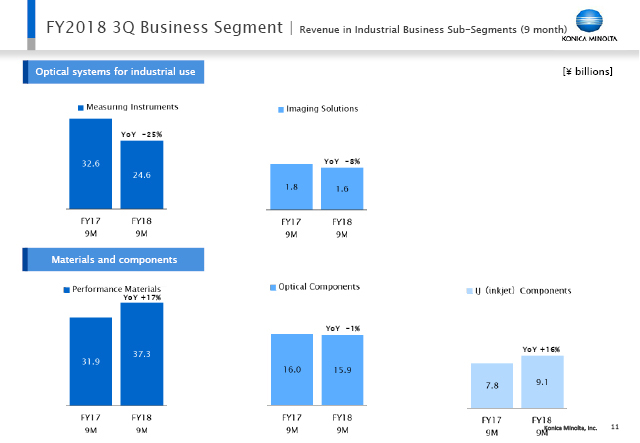 On this slide we use graphs to show the year-on-year change in nine-month revenue for the various business units of the Industrial Business that we just discussed. I will not go into details here.
12/18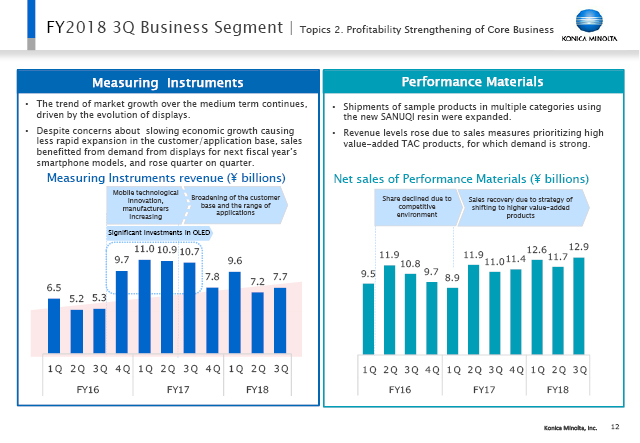 Now I will give you an update on the state of our initiatives for strengthening profitability in the measuring instruments and performance materials business units of the core Industrial Business.
The display-related capital investments made by major customers, which drove significant growth in measuring instruments sales last fiscal year, began a temporary slowdown in FY2017 3Q. However, the trend of medium-term market growth continues, driven by evolution in displays, and the level of quarterly sales is still on an upward trajectory.
Although there were concerns about slowing economic growth causing less rapid expansion in the customer/ application base, 3Q sales benefited from demand from displays for next fiscal year's smartphone models, and revenue rose quarter on quarter.
In performance materials, we expanded sample shipments of the new resin SANUQI, and our preparations for full-scale expansion in FY2019 are proceeding steadily. As a result of a sales strategy that prioritized high value-added TAC products, customer demand for which has remained strong since 2Q, we managed to grow revenue both year on year and quarter on quarter.
13/18
Next we come to New Business. Here I will discuss in a little more detail the progress of the Bio-healthcare Business, as the Workplace Hub is proceeding in line with the projections we disclosed at the time of the first-half results announcement.
Up until 2Q revenue was growing at double-digit rates, but in 3Q this slowed to 2%, for a total of ¥6.6 billion.
At Ambry we continue to make new hires to strengthen the sales structure in Genetic Diagnostics services, and the number of samples is increasing, but the results of the measures we have already implemented have been slow to emerge.
In services for major pharmaceuticals companies, we recognize that we must improve our project-by-project customization capabilities, and we are focusing on developing this area.
With regard to partnerships with others as a strategy to open the oncologist channel, there have been issues after the conclusion of partnership contracts, such as the time it takes to put together a proposal for testing services, and to build new business IT processes.
We will continue to carry out these measures, but in order to accelerate the growth of the business, we have two additional initiatives that are shown at the top-right of the slide. First, with the aim of growing demand, we will work to expand the number of individuals who are potential targets for testing, by extending the "CARE Program" to new markets such as initial diagnosis at hospitals, and imaging centers. For example, by combining our genetic diagnostics with mammography screening, which has a high screening rate in the US, we can provide more accurate diagnosis opportunities to individuals who have not contracted cancer. In this we are working in cooperation with the existing Healthcare Business. Our exhibit at the Radiological Society of North America annual meeting in November was well received, and the target market will be expanded significantly.
Also, in order to achieve technological differentiation in genetic diagnostics we will launch a new product that combines RNA testing, in which our technology was a world-first, and for which inquiries have been very strong, with DNA testing to dramatically improve testing accuracy, and strengthen our competitiveness versus others. Our preparations for launching this, in collaboration with medical institutions, are almost complete, and we expect it to contribute to earnings next fiscal year.
As for Invicro's drug discovery support services, sales growth has been sluggish due to the cancellation of certain major orders, but the value of new orders is increasing, and we expect a gradual recovery going forward.
In Japan we have begun making proposals for drug discovery support services to the R&D departments of multiple major domestic pharmaceutical companies, primarily for HSTT, and these have been well received. We are also preparing the foundations for the start of full-scale genetic testing services, but the expenses associated with FY2019 and beyond are being incurred up-front.
14/18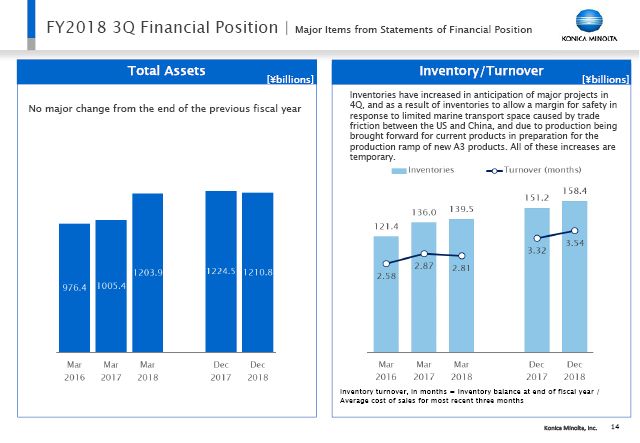 In terms of financial position, there has been no major change in total assets from the end of the previous fiscal year.
Inventories are increasing, but this is in anticipation of major projects being set up for 4Q, and also as a result of building safety stock in response to limited shipping space caused by trade friction between the US and China. It is also a result of production being brought forward for current products in preparation for the production ramp of new A3 MFP products. All of these increases are temporary, and we expect them to be resolved towards the end of the fiscal year.
15/18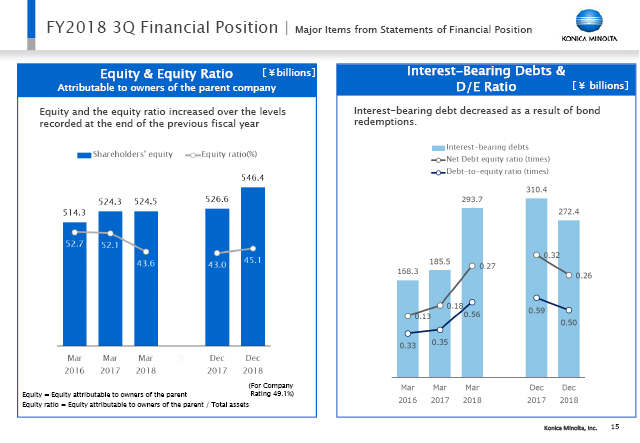 Both equity and the equity ratio have continued to improve from the levels recorded at the end of the previous fiscal year, as a result of higher profits. We have come another step closer to our 50% target for equity ratio used for Company Ratings.
Interest-bearing debts have decreased due to bond redemptions, so the D/E ratio and the net D/E ratio have improved.
16/18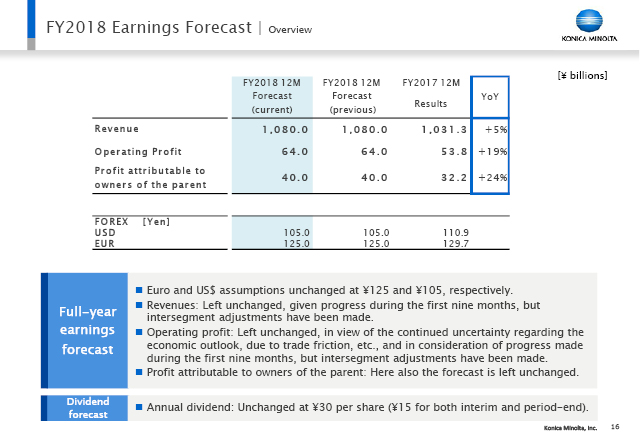 Finally I will mention the earnings forecasts for the full year.
With regard to the foreign exchange rate for 4Q, taking into account the economic uncertainties caused by issues such as the trade friction between the US and China, and the Brexit negotiations between the UK and the EU, we have left our assumptions unchanged at ¥125 to euro and ¥105 to the US$.
We have some supplementary points on revenue and operating profit on the next slide, but having made adjustments for the strengths and weaknesses in the various businesses, we have left revenue and operating profit for the Group as a whole unchanged at ¥1,080.0 billion and ¥64.0 billion respectively.
Profit attributable to owners of the parent remains at ¥40.0 billion.
There has been no change to the dividend forecast.
17/18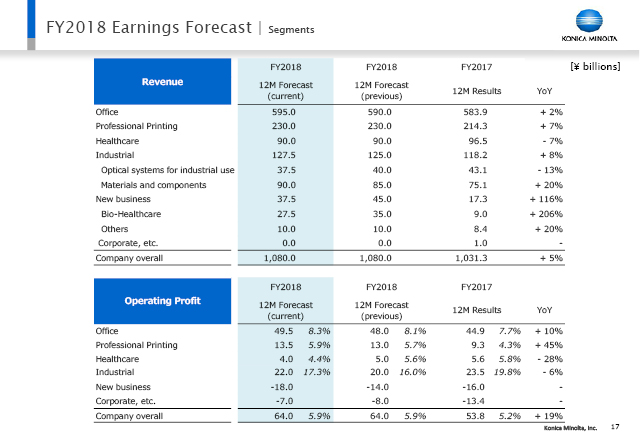 This slide shows updated earnings forecasts by segment.
Taking into consideration our results for the first nine months, and the status of measures we have implemented, we have revised forecasts upwards for the Office and Professional Print Businesses, where we continue to strengthen profitability. On the other hand, we have revised down the forecast for Healthcare, where profits are stagnant due to lower DR sales, primarily in the US.
In the Industrial Business, we are seeing the effects of initiatives for improving productivity as well as the progress being made in performance materials (where we have been handling the switch to the new resin SANUQI and customer demand well), and we have revised up the forecast for this Business.
In New Business, due to the delayed effects of the various measures taken in Bio-healthcare, we have revised down forecasts to reflect this.
There has been no change to the Group operating profit forecast of ¥64.0 billion for the fiscal year as a whole.
18/18