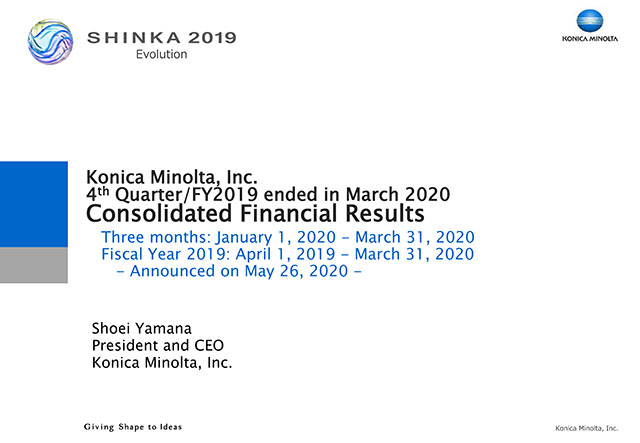 1/27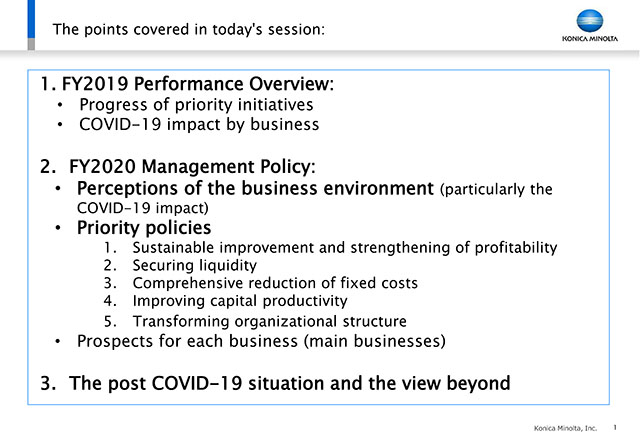 Now, allow me to explain Konica Minolta's consolidated financial results for FY2019 ended in March 2020.
The points I would like to convey to you are shown on page one.
First: FY2019 performance overview.
Secondly: FY2020 management policy
And lastly, I will cover the post COVID-19 situation and the company's view beyond it.
2/27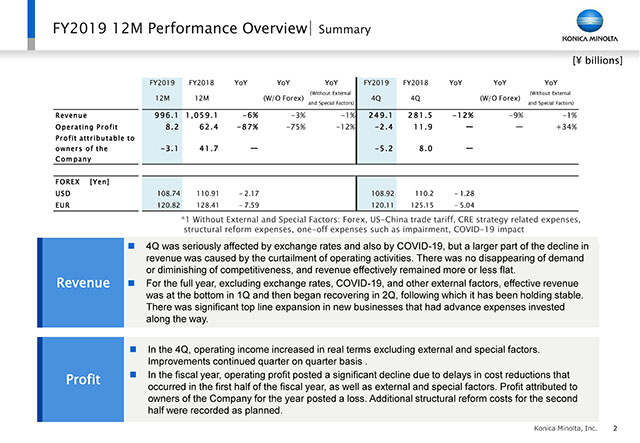 As shown here, full year revenue was 996.1 billion yen. Operating profit was 8.2 billion yen. And profit attributable to owners of the company became minus 3.1 billion yen. Revenue for the 4th quarter is shown in the top right. If we are to exclude the external and special factors such as the COVID-19 outbreak, the effective revenue declined only 1% year on year. This was caused by major restrictions in our sales activities. It was not necessarily driven by a loss in demand or lower competitiveness on our side. Full-year revenue is the same, showing down 1% in real terms. The 1st quarter hit the bottom, and since then we have been on the recovery trend. The revenue in the new business has also grown substantially.
Operating profit for the 4th quarter is also shown in the top right. In real terms, the profit grew 34%. It surpassed the forecast for the 2nd half we made in the end of the 1st half. As for the full-year performance, besides the delayed progress in terms of the cost reduction, we were affected by the external and special factors. Operating profit went down significantly, making the profit attributable to owners of the company for the year a loss. Additional structural reform costs for the second half were recorded as planned.
3/27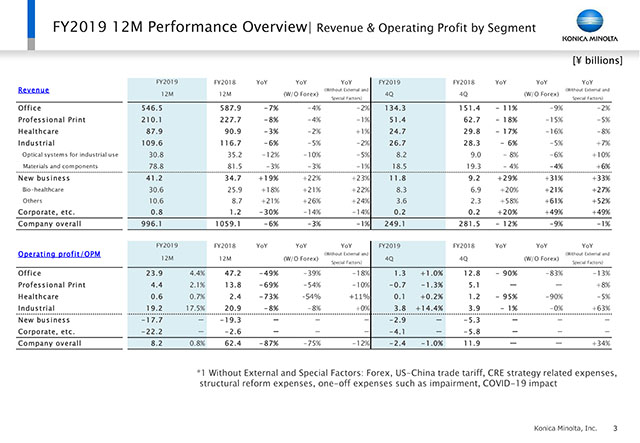 This page shows the details by segment.
Appreciate if you could refer to this page later.
4/27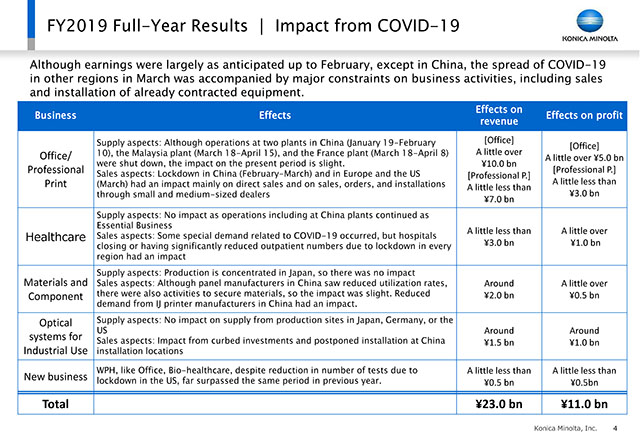 This page shows the details of the impact from COVID-19.
Breakdowns are shown of the 23 billion yen on revenue and the 11 billion yen on profit for the entire company. The impact on supply aspects was rather small thanks to the quick efforts we made for recovery. That said though we had a great impact on sales from the lockdown first in china in February and, next in Europe and the U.S. and Asia in general in March. 70% plus of our business impact came from the Business Technologies business (Office and Professional Print segments), and we were not able to install the contracted equipment. The fact is that we have a larger business portion in the U.S. and Europe, thus resulting into big numbers.
5/27
Next page 5 and 6. The graphs there show the change in sales on the quarterly basis in real terms vis-a-vis revenue and operating profit.
The bottom on this page shows the change in office business revenue. As I mentioned earlier, due to the delayed contribution from the new office products, we had a sluggish business, but it recovered and has remained stable since then. All the companies are showing this trend.
6/27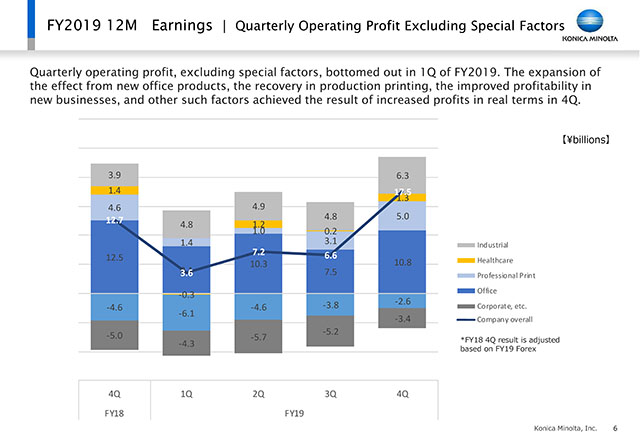 On operating profit. It shows the same trend as the revenue. The 4th quarter operating profit, in real terms excluding special factors, shows 17.5 billion yen, this is an increase of 4.8 billion yen year on year basis. Professional print was 5.0 billion yen, showing a recovery in this area.
Industrial business, which has traditionally enjoyed a high profit margin, was 6.3 billion yen.
Thus, the company was able to increase its profit by growing high value-added business opportunities. Another factor for the growth in the real term is the reduced loss in the new business the company is now pushing on the mid to long term basis.
7/27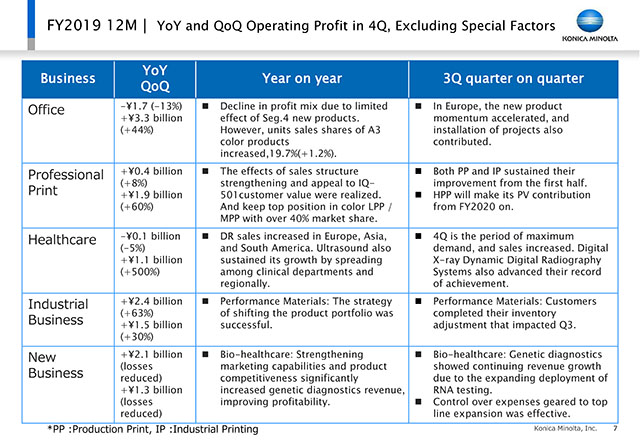 This page shows the details as for the real ups and downs in the operating profit. Here I would like to go into somewhat details to explain.
Office business. The numbers you see there is showing a deterioration of profit mix. This was caused by the limited effect of segment 4 new products. However, may I remind you that during this period, our global units sales share of A3 color products actually grew to 19.7%, up 1.2% year on year despite the fact that the overall market has shrunk significantly due to the COVID-19 impact. The new product momentum accelerated in the 3rd quarter with some large deals in Europe. Particularly in Europe A3 color business grew the units sold. The share was 24.4%, up 2.4% year on year. We maintained our No.1 position.
Professional print. Here we were able to recover its profit. IQ-501 customer values became visible and were realized. Color MPP/LPP enjoyed over 40% market share globally, so we were able to maintain its number 1 position worldwide. This business sustained its improvement from the 1st half. High-end HPP, launched in the 4th quarter, will make its print volume contribution in FY2020 onward.
Healthcare. DR in the U.S. has further matured. But we observed a growth in sales in Europe, Asia and South America. We had an expansion in ultrasound business in the 4th quarter. Compared with the 3rd quarter, we had a good growth in the digital x-ray dynamic digital radiography in the 4th quarter. This is our unique technology and our competitiveness is further advancing. And this will become a driver for the growth for FY2020 and onward.
Industrial business shows the positive profit numbers in real terms. In performance materials particularly, we succeeded in shifting our product portfolio toward high values. In the 3rd quarter, some customers had inventory adjustment, but with that over, now we have gained those numbers as you see here in the 4th quarter.
In regard to new business, the loss became smaller thanks to bio-healthcare business and Workplace Hub. Talking about the bio-healthcare, particularly, genetic diagnosis, a core field for Ambry Genetics, showed continued revenue growth. For this as you see there in the right side, we enjoyed the expanding deployment of RNA testing. Besides this RNA testing expansion, we started our consulting business for a lab in Taiwan. Furthermore, we have a program called CARE for the healthy people and completed a necessary M&A for it in the 4th quarter.
Though it is not mentioned here, I would like to touch upon Workplace Hub briefly. The number of installations did not come in as we had planned, but finally we completed our firmware version 1.9. the third-party applications can now run on this platform. Finally we made this open interface management. I would like to explain that our original unit price per customer was assumed to be $1,250 per month, but it became $2,000 or up to $2,500 per month thanks to the Managed IT Service capability we added. And with the relevant MFP solutions together, the monthly price is now becoming $5,000 per month in our scope.
8/27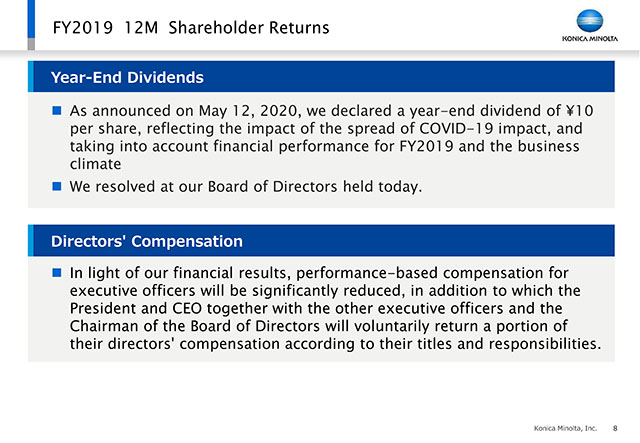 With the situation I have just explained for FY2019, it is quite regrettable for me to report that the year-end dividend became ¥10 per share. And as for executive compensation, as we announced in detail in the company web site, in light of the big decline in the financial results as well as the reduction in the dividend, top management decided to voluntarily return a portion of their compensation.
9/27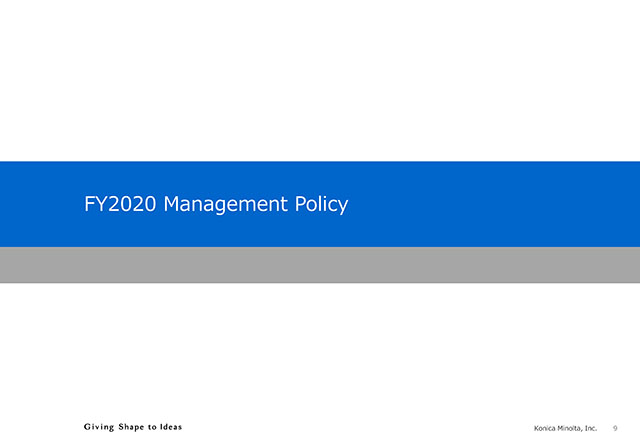 In this section, I will explain FY2020 management policy.
10/27
I have to say that at this moment it is rather difficult to calculate reasonable earnings and dividend forecast for FY2020. So, we treat them as undecided. But going forward, we plan to announce our forecasts promptly when it becomes possible to calculate them.
11/27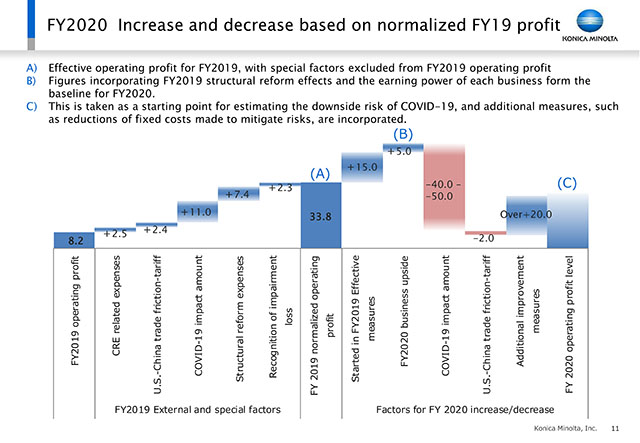 In this page, we have indicated possible reasons for ups and downs with specific numbers.
As shown in the bracket A, FY2019 normalized operating profit, excluding the special factors, is 33.8 billion yen. And 15.0 billion yen with the planned cost reduction and the structural and other effective measures we started in FY2019. Next to the right is business upside in FY2020 as we had planned this since FY2019 as 5.0 billion yen shown with bracket B.
As for the negative factors, we are assuming 40.0 to 50.0 billion-yen, possible impact from COVID-19. This impact could become much bigger than 11.0 billion yen of FY2019. We still have 2.0 billion yen impact coming from the us-china trade friction and tariffs.
With these negative numbers, we are considering emergency measures including reduction in fixed cost. This will amount to over 20.0 billion yen in its impact.
Now I am going to explain each factor in details a little bit starting from page 12.
12/27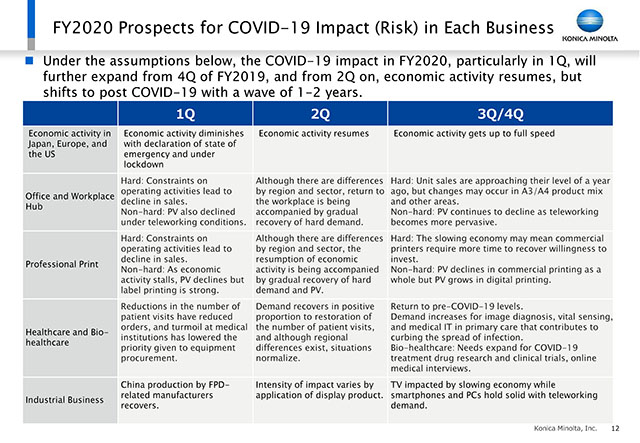 I would like to go through the points on the COVID-19 impact as much as 40.0 to 50.0 billion yen. This shows the major factors for each business on the quarterly basis. Unfortunately, we will have the biggest impact in the current 1st quarter. Delays in installations in March end is catching up gradually, but delayed and restricted sales activities for new opportunities will have much more impact. In the 2nd quarter, we believe economic activities in general will improve. But in some materials business, we may still have an impact coming from possible inventory adjustments among some customers in the 2nd quarter.
Moving into the 2nd half, we are assuming that in businesses other than the Business Technologies business, performance will firmly recover. Even in the Business Technologies business, the performance will improve in the second half, but when it come to the print volume in the Office segment, we are afraid that the recovery even in the 2nd half could be rather slow. But here I need to emphasize that recovery pace in terms of print volume is slower particularly among big enterprises compared with our core client customers, namely SMBs.
In the Professional Print, CRD, or centralized reprographic department and commercial printing, as a whole may slow down in print volume, but when it comes to our focus, namely digital printing or industrial printing, such as labels printing will grow in volume. While Konica Minolta is not necessarily putting too much emphasis on CRD of those companies.
13/27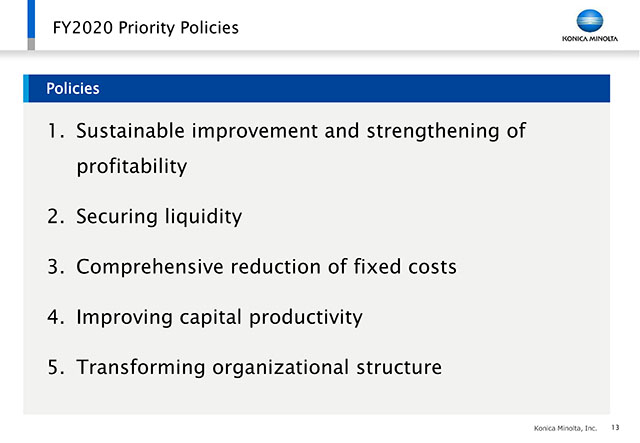 I have listed 5 points for the priority policies for FY2020.
Now I will explain one by one.
14/27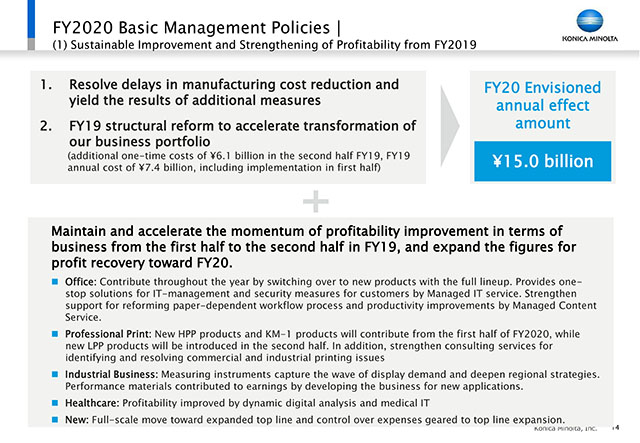 This shows the policy number one. Sustainable improvement and strengthening of profitability from FY2019.
Top shows the ideas for the cost reduction which was explained in the 1st half last year, and here I have also added improved service productivity. Manufacturing cost reduction is now assumed to be about 6.0 billion yen and the FY2019 structural reform effect is about 9.0 billion yen, so putting them together we are here assuming a total of 15.0 billion yen.
The bottom shows important policies for the possible upside in business operations. This relates to the possible effects of 5.0 billion yen which I explained on page 11.
In regard to the Office, finally, we will be benefitted in FY2020 by switching to products with new engines installed. We are now further advancing Managed IT services which can offer one-stop services including security. We will also strengthen our support for paperless workflow and productivity improvement with our Managed Content Service.
In the Professional Print, we launched a new HPP product in the 4th quarter. and in the 1st half of FY2020, we will launch "AccurioJet KM 1e" digital inkjet press for large commercial printing. In the 2nd half, we will launch new LPP products. We will also move into consulting business in order to identify issues and solutions to those issues.
Industrial Business, measuring instruments. We will capture the wave of display demand, and deepen regional strategies. Performance materials will contribute to earnings by developing business opportunities for new applications.
In the Healthcare, as I have already mentioned earlier, we will advance dynamic digital radiography and medical IT.
As for new businesses, we continue to make efforts to expand top line in earnest and so we need to control SG&A.
15/27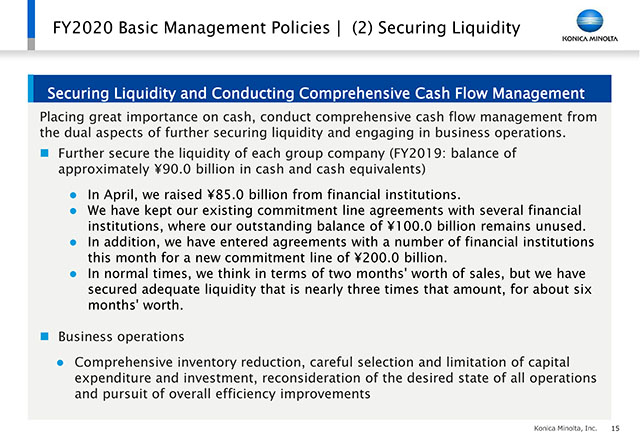 While giving top priority to cash, we will further secure liquidity, and firmly manage cash flow in operating business. We keep an eye on both sides.
In regard to the liquidity, in April we raised already 85.0 billion yen. Besides the unused 100.0 billion yen commitment line agreements, additionally this month we had a new commitment line of 200.0 billion yen arranged with the financial institutions. With this done, we now have enough liquidity as much as 6 months in terms of the monthly revenue. While continuing and this will enable us to further expand business operations.
In regard to business operations, it goes without saying that we will throw away the safety inventory mindset completely. We will thoroughly reduce inventory, be selective and restraining capex and investment. We will go through a complete review of the entire business operations to seek after efficiency as thoroughly as possible.
16/27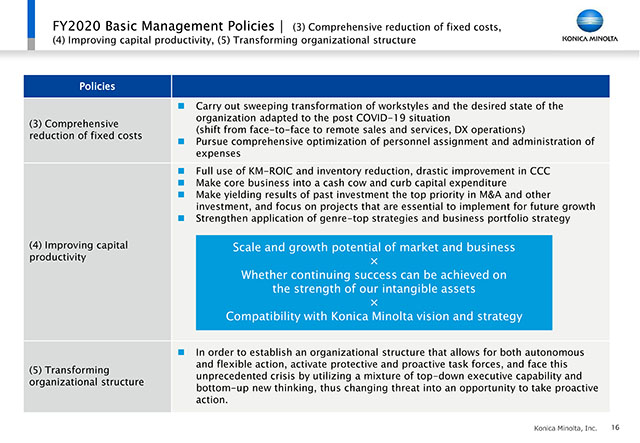 Page 16 on the third policy on reduction of fixed costs.
This relates to the earlier point when I said we will aim at more than 20.0 billion yen in value on Page 11. Of course, in the post COVID-19 world, the way we work is going to change drastically. Here we are already working on it, but we will further advance remote sales and services vis-a-vis face-to-face activities, and promote DX operations. We will further utilize RPA in administrative and indirect operations. We will optimize human resources allocation, and manage expenses such as travel, rents and others will be optimized on a global basis.
Next in regard to improving capital productivity.
We are already implementing KM-ROIC, and we will advance this thoroughly by business, thus we can reduce inventory as a result and improve CCC drastically. In regard to M&A and other investment and financing, we will give the top priority in getting results from the past investments we made. Investment activities will be limited only to those opportunities for our future growth. We will have another level of review on our business portfolio, accelerating our review as for our decision to possibly exit from non-or-low profit-making operations.
In regard to transformation of organizational structure, we will emphasize autonomous and flexible organizations, so we will further lead and accelerate offensive and defensive task forces. We will face up to this unprecedented crisis by resorting to both top-down and bottom-up execution and approaches, thus we would like to be more aggressive to deal with those threats.
17/27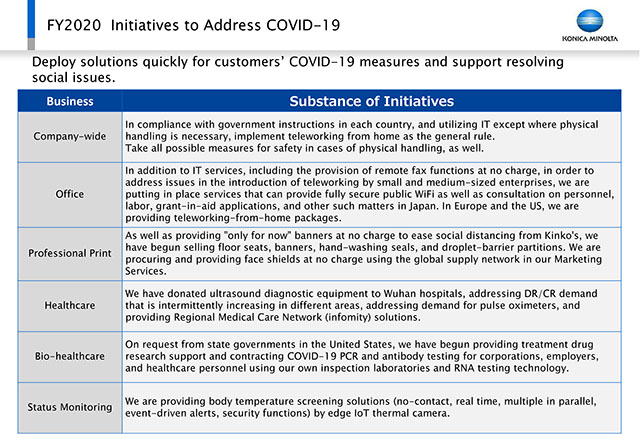 Page 17 explains our series of activities after being exposed to COVID-19. We are introducing teleworking for particularly for our core SMB customers. We would like to offer our software assistance to help HR and labor issues management, applications for subsidies and aids and others. We will further expand our activities with Kinko's and further promote health care and bio healthcare activities. We have already received requests in the U.S. and have begun providing treatment drug research support and contracting COVID-19 PCR and antigen testing in the us. We would like to extend this service to Japan as well.
18/27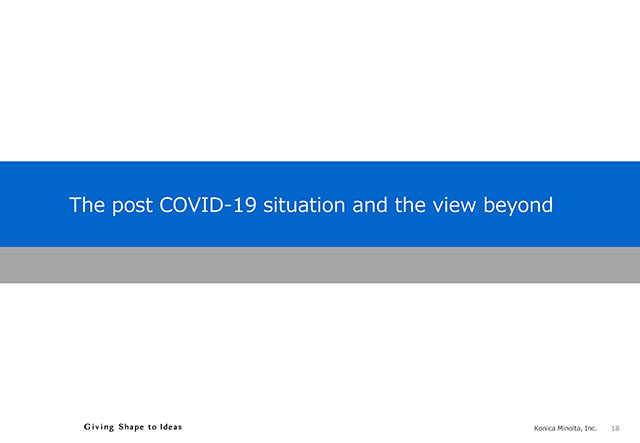 Finally, I would like to move to the post COVID-19 situation and the view beyond.
19/27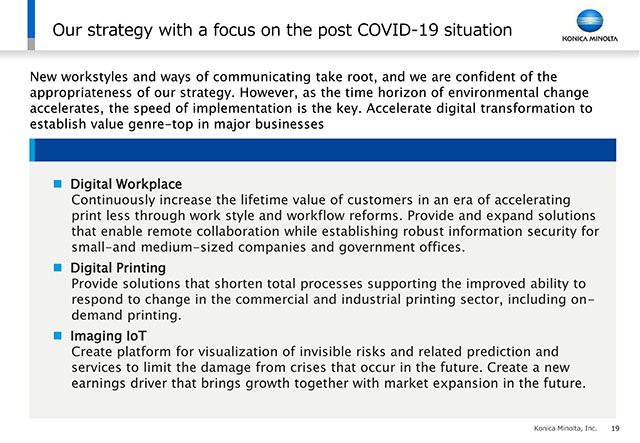 With the new work styles and new ways of communication are becoming more prevalent, we are confident that our business and management strategies we have followed so far are right and justifiable in direction. Here the execution speed is the key because the timeline of the environmental changes goes so quickly.
If I may here I would like to expand on headwinds and tailwinds in the post COVID-19 era. As for the headwinds against the company is apparent. Print volume recovery is slow. It is going to become worse much quicker than we had anticipated so far. Since our main customers are SMBs, so it may be somewhat mild, but definitely this is going to be a headwind against us.
Next tailwinds side. As for the tailwinds in the post COVID-19 ear, as shown on page 19, they are digital workplace, digital printing and imaging IoT, and moving onto page 20, healthcare and industrial business. There are 5 opportunities.
20/27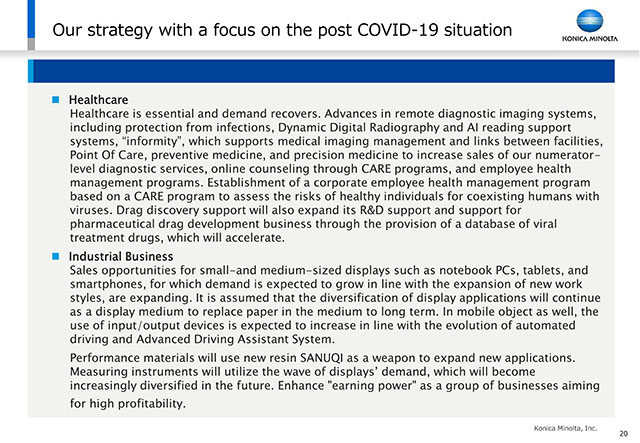 Now allow me to expand on them using the following slides.
21/27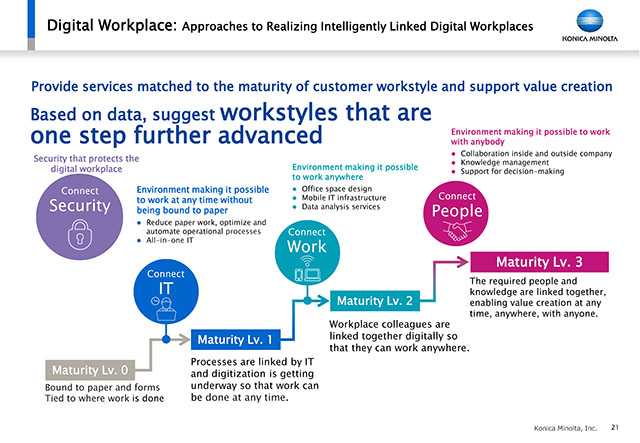 Page 21 is the first tailwind about digital workplace. It shows the maturity levels of customers work styles. The first stage is the environment making it possible to work at any time without being bound to paper. This is the connect IT. Next one is the environment you can work anyplace, or the Connect Work. We are now expanding this service. Then the next stage is Connect People. Here you can work with anybody. Collaboration inside and outside the company. Knowledge management. Support for decision making.
The so-called print-less I am talking some time we will definitely go for it. With this in mind we would like to offer digital workplace capability, which has become the most important requirement for our customers. Here we need to offer our services to fully match with the customer's actual maturity level. We would like to support our customers as life-long customers. By doing so, we would like to respond to the less printing volume coming up. This is going to be our tailwind, and we will pursue it.
22/27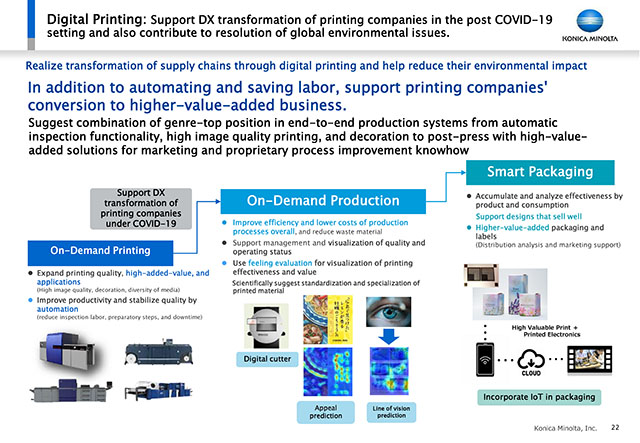 The second one is digital printing on page 22.
Digital printing is important even in post COVID-19 world. It is essential for printing companies to transform themselves by digital printing. This on demand printing will contribute to finding solutions to the global environmental issues. By delivering many systems, our on-demand printing covers, automatic inspection functionality, high image quality printing and decoration. We have been in the top position in each genre. We need to further move onto on-demand production. Here we need to improve efficiency for the entire production process. We need to visualize quality and operating status. We need to support customers' DX. As shown in the center, feeling evaluation for visualization of printing effectiveness and value is critical. We need to be able to scientifically suggest standardization and specialization of printed materials.
On top of them, as shown in the right, we need to be capable in marketing or smart packaging. Here we are talking about designs that sell. We need to be higher- value-added provider. This is going to be what we call IoT in packaging, and with this we will further aim at higher values.
23/27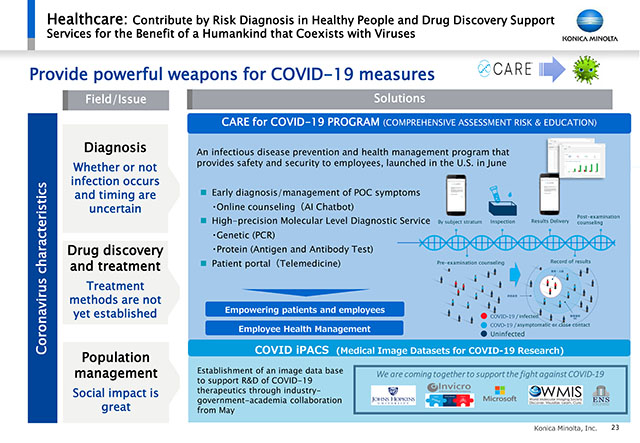 Page 23 on healthcare.
First Ambry Genetics. The core so far here has been research for testing of genes of the patients with cancer. But with COVID-19 going on, we decided to start a CARE program in a much broader sense in June in the U.S. To prevent and manage safety and health for workers. This consists of the following items as listed below.
First, online counseling through AI chatbot.
Second, high-precision molecular level diagnostic service or PCR testing by Ambry's genetic capability. And we have protein analysis technology, so we should go into antigen and antibody testing activities and patient portal called Telemedicine and we will connect them going forward.
Another direction to follow is drug discovery support. Namely drugs for COVID=19 treatment.
Invicro has its imaging database, and by using it we would like to fully move into this research area among the government, the academia and the private sector. This started in May. As shown on the right side, Johns Hopkins university, Microsoft and Invicro are collaborating in this project centering particularly around AI-based analysis.
24/27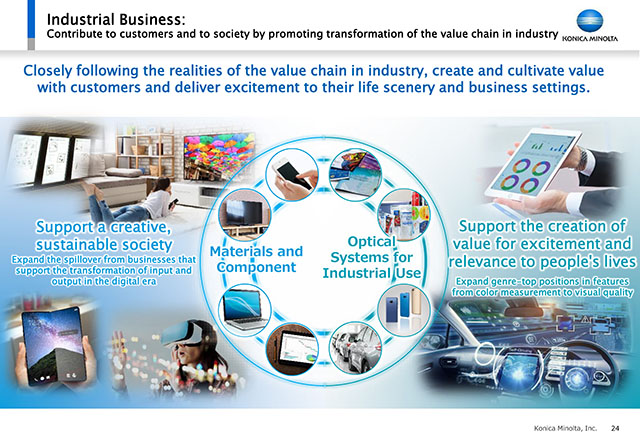 In the post-coronavirus era, we do believe displays for applications such as PCs, tablets, foldable smartphones, VR and automotive systems, will explode. We happen to have our unique technology of ultar-thin film technology. By leveraging this manufacturing technology, we aim to raise operating profit margin from the current 18% to close to 20%. We will surely keep our margin even in post-COVID-19 era.
25/27
With the COVID-19 outbreak, we started our efforts in solutions for measuring body surface temperature with thermal cameras using AI analysis. We are contributing to prevention of infection spread at buildings entry-points. Besides body temperature measurement, we are working on facial recognition and social distancing.
26/27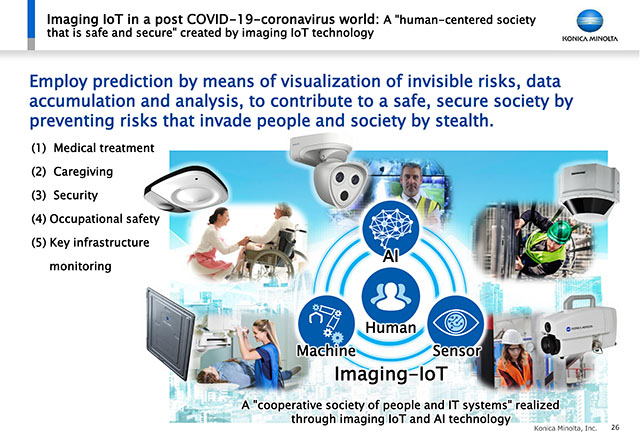 This is about our efforts to visualize invisible risks, data accumulation and analysis, so that we can contribute to a safe, secure society by predicting risks that invade people and society by stealth. At the center in our imaging IoT is human, and we will be engaged in a series of activities in medical treatment, caregiving, security, occupational safety and key infrastructure monitoring.
I have explained our plans in the post-COVID19 world. We have a strong belief that our overall portfolio transformation is right with the tailwind opportunities. Of course, we have headwind challenges. In order to overcome those challenges, we have to increase our speed for transformation to address those issues in FY2020. While being firmly defensive, we need to be offensive on the mid to long term basis. We will manage our business by having ambidextrous organization.
27/27