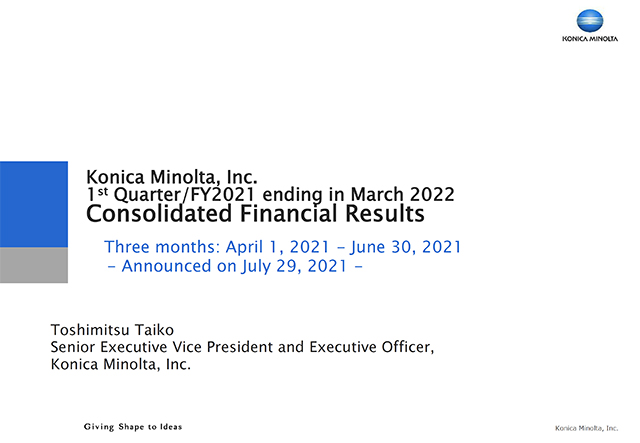 1/21
I will explain the points I would like to tell you today.
Financial performance in the quarter progressed generally in line with expectations. According to the result, we left the initial forecast of financial performance, full-year forecasts, and shareholder returns for the fiscal year unchanged.
We plan to disclose the progress of the business portfolio transformation at an appropriate timing for each business.
Finally, after carefully examining the numerical plan for Medium-term Business Strategy "DX2022," it was approved at our Board of Directors in May, so we have decided to disclose and promote it again as a Medium-term Business Plan, so I will explain it.
2/21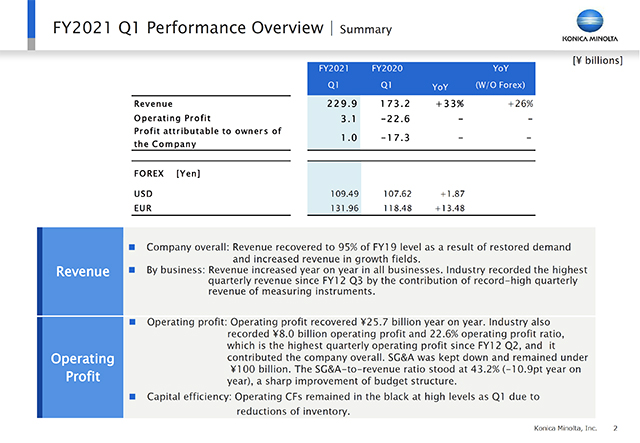 This is the summary of financial performance in Q1.
Revenue increased across all segments in the quarter and collectively recovered to 95% compared to FY2019 Q1, prior to the COVID-19 impact. In particular, we posted a record quarterly revenue for Measuring instruments unit. And as Industry Business, we recorded the highest revenue since FY2012, when TAC had recorded the highest sales.
Operating profit recovered ¥25.7 billion year on year. By continuing to keep quarterly SG&A below ¥100 billion, the profit was able to be directly contributed by the amount of the recovery in gross profit as sales and the gross profit margin recovered.
In terms of the actual amount of operating profit, Industry Business recorded ¥8 billion and operating profit ratio at 22.6%, well over 20%, and both the amount and ratio marked the highest figure since FY2012 Q2, it drove the whole company.
In addition to recovering revenue from the impact of COVID-19 and improving gross profit margin, the businesses that we are focusing on to make them the pillars next our Office Business in the medium term will grow strongly, and we have started to achieve the significant result in our targeted portfolio transformation.
Operating cash flow was also in the black as a high level of profitability in Q1.
3/21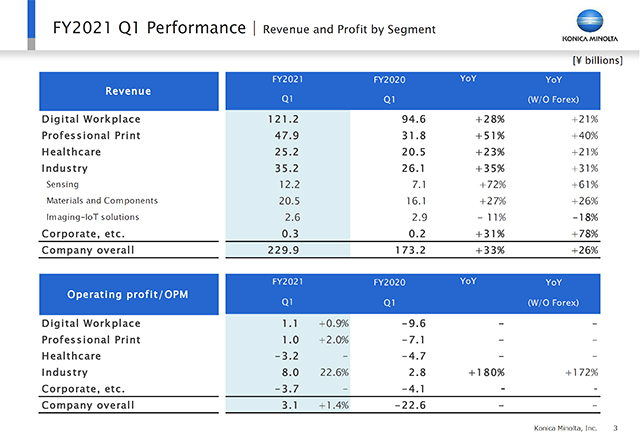 The slide shows revenue and operating profit by segments.
Sales are up in all segments. Revenue of Professional Print Business showed remarkable increase of revenue year on year by having recovered from a large decline in the previous year, due in part to Industrial print and other businesses continuing to increase sales.
Industry Business increased the revenue by continuously having increased sales of measuring instruments, which also rose in the previous year, and the recovery of sales of materials components.
Operating profit of each segment achieved profitability except for Healthcare Business. We saw particularly strong profit growth in the Industry Business, and Healthcare Business narrowed its loss.
4/21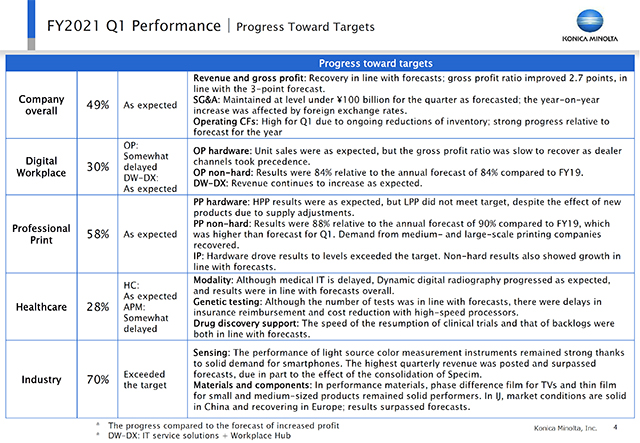 In this slide, I will explain Q1 results compared to the plan in a little detail.
As for the whole company, we planned to have restrain SG&A and recover revenue and gross profit, and the gross profit margin would have been improved by around 3 points in the year. As Q1 results, it improved 2.7 points, resulting in a gross margin of over 44%. Compared with the forecast of operating profit, which is planned to be increased ¥52.3 billion annually, Q1 progressed 49%, which is basically in line with our expectation. Continued inventory control has resulted in a high level of operating cash flow in Q1.
Digital Workplace Business consists of 2 units: Office print and DW-DX. There was a slight delay in Office print compared to the plan. Breaking this down, although the sales volume of hardware was as expected, the improvement in the gross profit margin was slightly delayed due to the impact of the product mix by a slight precedence for dealer channels. Non-hard sales were expected to be 84% of FY2019 over the year. Non-hard sales were 84% at even this stage when people are still not returning to their offices in earnest. DW-DX, which integrates IT services and Workplace Hub, is on an uptrend in sales as planned.
Professional Print Business as a whole is progressing almost as expected compared to the plan for improving profitability from the previous fiscal year. At Production print, we had some backlogs in the Light Production Print segment due in part to the impact of hardware supply adjustments, specifically, the impact of the tight supply of semiconductors that we are now facing. Still, the overall results were in line with our forecasts. We assume that non-hard annual forecast will recover by 90% compared to FY2019. The recovery in print volumes from medium- and large- scale printing companies preceded, resulting in an 88% recovery in sales in Q1. However, from the standpoint of "back to office", centralized reprographic department (CRD) customers still see their PVs recovering at a slow pace. In industrial print, sales of non-hard continued to increase as anticipated, and sales of hardware drove the revenue. As a result, the target was exceeded.
Regarding as Healthcare Business, although the existing business of modalities progressed as expected, revenue from Precision medicine was somewhat below the target. In particular, although genetic testing numbers recovered as expected, there was a slight delay in insurance reimbursement, and delay in cost reduction initiatives by the delay in the utilization of some of the next-generation sequencers, and "write off" of some reagents in the current testing machinery.
Industry Business marked the best operating profit since FY2012 Q2, achieving 70% stretch from the previous fiscal year. Particularly in Measuring instruments, we were able to surely respond to additional orders thanks in part to the trend of increased smartphone production. Furthermore, sales of Specim, which was acquired in the previous fiscal year, have grown as expected and have been added to the consolidation. Performance materials also maintained its highest level in the second half of last year, and Inkjet components also performed well. As a result, the plan is exceeded.
5/21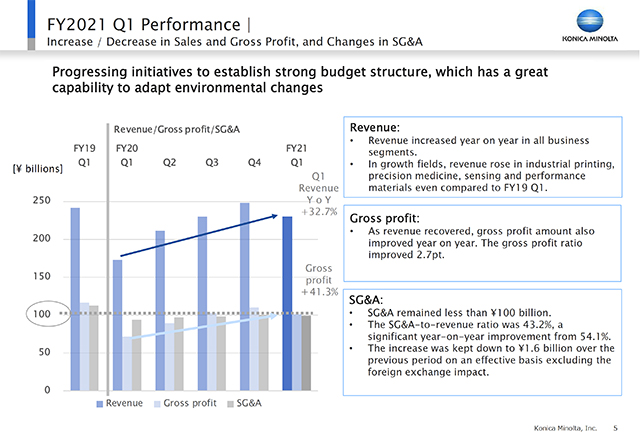 Below, we explain the trends for the whole company.
SG&A declined significantly from FY2019 Q4 to FY2020 Q1, however, it has been able to be maintained at the reduced level firmly since then. As a result, revenue increased by 32.7% from FY2019 Q1 , but gross profit increased by 41.3%, which is more than the level of the revenue increase, resulting in growth in profits. Going forward, we will continue to firmly restrain SG&A and continue the momentum to improve revenue and gross margins.
6/21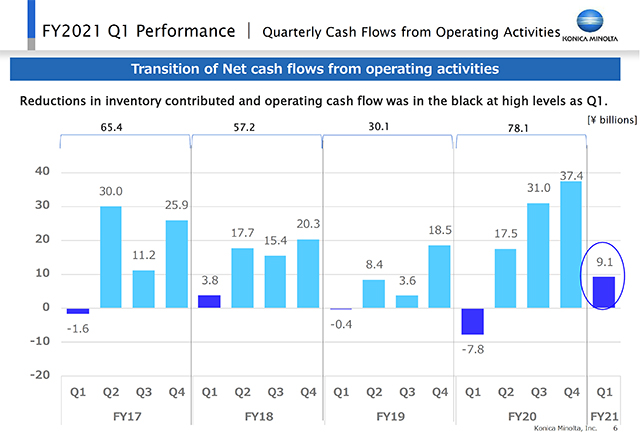 Again, when we look at cash flow on a quarterly basis, we made ¥9.1 billion in Q1. We believe that we have made an extremely good start compared to the past. We intend to continue this trend firmly in Q2 and beyond.
7/21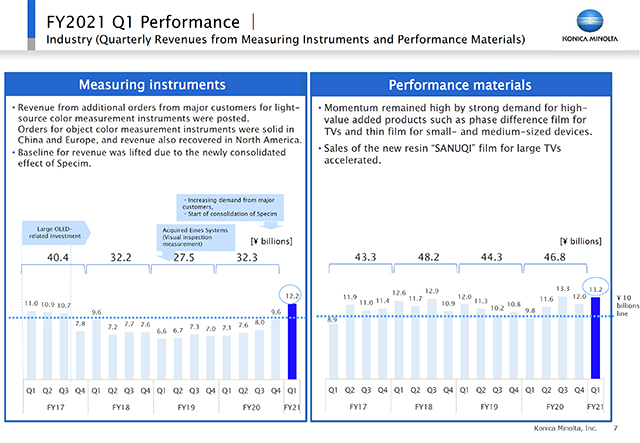 These graphs show quarterly trends for sales of Measuring instruments and Performance materials, the mainstay businesses of the Industry Business, over the last 5 years.
In Measuring instruments, sales of light-source color measuring instruments were followed by customers' investment due to the recent rise in demand for smartphones. Object color measuring instruments also recovered mainly for automotive. Revenue was ¥12.2 billion quarterly, the highest spike in the last 5 years. Furthermore, as I mentioned earlier, Specim's hyperspectral imaging business also contributed to sales in Q1, and we will accelerate the development of this application in other industries, such as pharmaceuticals and foodstuffs, in the future. We will also plan to pursue additional acquisitions to further expand this area.
Along with strong demand for LCDs, smartphones, and tablets, Performance materials posted a revenue of ¥13.2 billion, the highest level in the last 5 years. In the future, we create new momentum by expanding mass production of new resin SANUQI film for large displays, and by expanding the application that we deploy.
8/21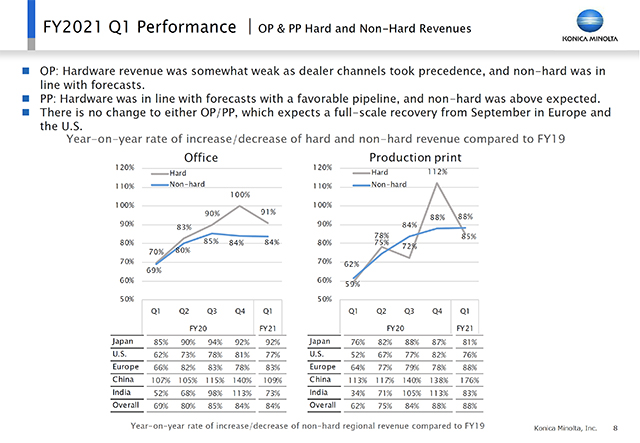 This slide shows increase or decrease in revenue of hardware and non-hard relative to FY2019 for each of office print and production print.
As I mentioned earlier, non-hard was 84% for office and 88% for production print in Q1. In particular, the level originally assumed internally was 83% in office print, so it has risen 1% from there. The main driver of this improvement was continued strong sales in China. In addition, we assumed that Indian revenue would fall considerably due to the impact of lockdowns, but we were able to avoid a major impact. In addition, it is noteworthy that sales in Europe were slightly higher than expected due to the emergence of "Back to Office" trends in Germany, UK, and other countries in June.
Production print was 88%. This resulted from the fact that medium-and large-scale commercial printing companies benefited from increased marketing activity as activity restrictions by the spread of COVID-19 were lifted.
From Q2 onward, we had assumed that people would return to their offices in earnest after Labor Day, namely from the end of the August to the September, in Europe and the United States. We assume this trend to be largely in line with expectations. The status of the pipeline of hardware in Office print has returned to FY2019 Q1 level as of the end of June. Furthermore, we conduct detailed survey to estimate which timeliness "Back to Office" are directed to employees by the business owners in the pipeline. We confirmed that the season of realizing "Back to Office" would be generally at the end of the August when the vacation season ends in Europe, and after Labor Day as it ends in the U.S. In Production print, we also have good hardware pipeline. In addition to the trend of recovery in the market, we intend to leverage the new product of Light Production Print launched in the second half of last year and the new Mid Production Print launched in Q1,as well as the strength of customer inquiries at the Heavy Production Print, which has continued since last fiscal year, to drive sales throughout this fiscal year.
9/21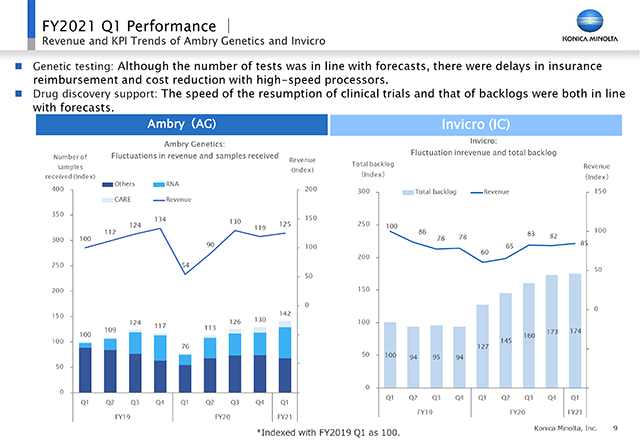 This slide shows revenue and KPI trends for Precision medicine. One of the businesses is Genetic testing, and the other is Drug discovery support service.
At Ambry Genetics' genetic testing on the left side, the number of sample fell to nearly half on a monthly basis in April last year., But since then it has continued to recover, and resumed to the level prior to COVID-19 in this March. This trend is becoming stronger through Q1.
However, as I mentioned earlier, we experienced some delays in insurance reimbursement in April and May, and this impact remained a bit in revenue, but it has begun to recover in June. In addition, the number of samples is progressing steadily.
On the other hand, Invicro's drug discovery support service grew from ¥8.2 billion to ¥8.5 billion while the backlog remained at the same level as in FY2020 Q4. Activities related to drug discovery support service are starting to move firmly. In addition, a drug for Alzheimer disease targeting amyloid β, developed by Biogen and Eisai, was urgently approved by the FDA in April. In this respect, we expect that clinical trials for Alzheimer disease drug will become more active in the future.
10/21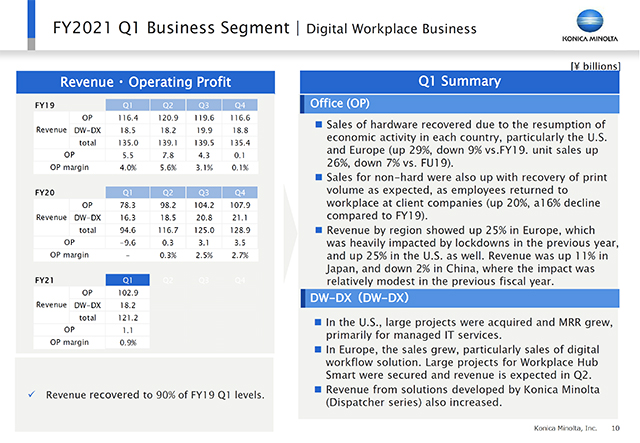 Details for each business will be provided here. I'll focus on the points.
First, in DW-DX, where sales continue to increase, we see growth centered on managed IT services, mainly due to the acquisition of large-scale projects in the U.S. As a result, monthly recurring revenue is also increasing. Meanwhile, in Europe, we are growing sales of workflow solutions such as managed contents services and others. Furthermore, in the utilization of Workplace Hub Smart, which was changed from Linux to Windows OS last year, the number of cases of workflow improvement using applications is increasing recently compared to infrastructure improvement, and now around 80% of business negotiations are shifting to workflow improvement. Furthermore, while we are currently working to integrate MFPs and Workplace Hub Smart, our Workplace Hub Smart, as an MFP+ Edge Computing, has enabled us to win business negotiations such as the installation of 4-digit units at one of the largest banks in European country. Our services are valued not only by SMBs, our traditional target customer base, but also by major customers as solutions that do not require much follow-up effort by IT administrators. We are confident that these successful examples will enable us to offer proposals to major customers in the future, and we intend to expand them to other countries. In addition, a certain trend has emerged in recent years in which cloud service providers use Edge Computing to provide the same solutions on the cloud and edge as part of further business expansion. We intend to consider potential collaborations with such large cloud service providers. We will also improve margins by transforming third-party applications into our developed applications, as we have already mentioned. In this regard, we are currently making steady progress.
11/21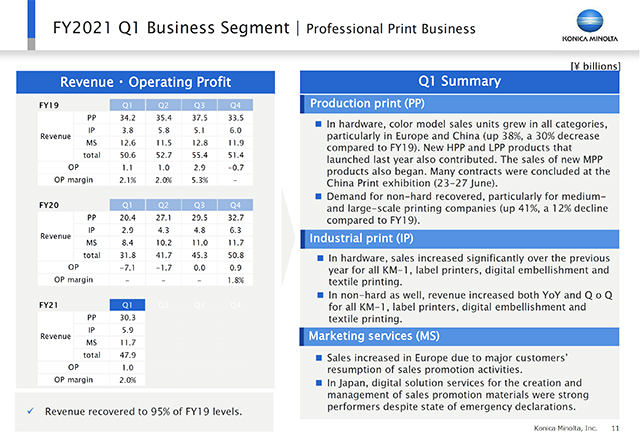 The following is about Production print. We have begun sales of AccurioPress C7100 series, a new product of Mid Production Print. In addition, we are making progress with remote demonstrations and other working style reforms in our sales activities. In China, China Print, the first conference to gather people in a long time, was held in June, and we were able to win many contracts. This will certainly contribute to the revenue in Q2.
In addition, non-hard of industrial print continues to grow on a quarterly basis, but we expect it to grow further as the marketing activities recover.
12/21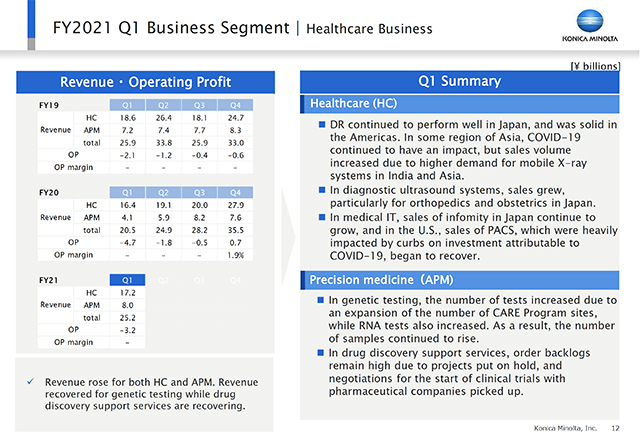 In Healthcare, we launched new DR products. In Japan, we have been collaborating with Canon Medical Systems in the field of diagnostic ultrasound systems for obstetrics, and X-ray. In April, we expand the collaboration into the field of diagnostic ultrasound systems for orthopedics. Furthermore, we have begun collaborating with Siemens in the field of Medical IT. We plan to leverage each other's technologies and assets while further strengthening our own strengths, and enhance synergies through the collaborations.
In Dynamic Digital Radiography, clinical research is progressing in Japan, the U.S. and China, and academic presentations from key opinion leaders on clinical site usefulness are increasing. I believe that such activities will lead to specific business inquiries in the future.
13/21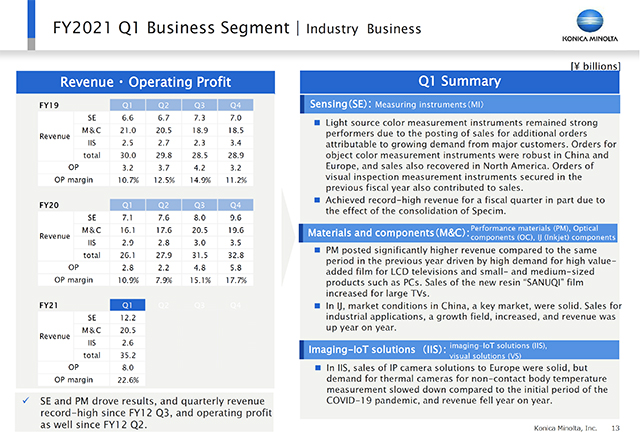 The following is an explanation of the Industry Business.
Imaging IoT solutions saw a slight decrease in sales from the previous year as demand for thermal cameras stabilized. However, we will continue to strengthen sales of IP network cameras in Europe and North America as key regions.
In addition, the Imaging IoT-platform FORXAI, which we launched last November, is steadily increasing the number of partner companies. As an example, in June, we collaborated with Marubeni Network Solutions by utilizing world-class attribution recognition technology in FORXAI to develop and demonstrate human stream marketing that enables us to analyze what actions the same person took without identifying individuals at large-scale commercial facilities.
14/21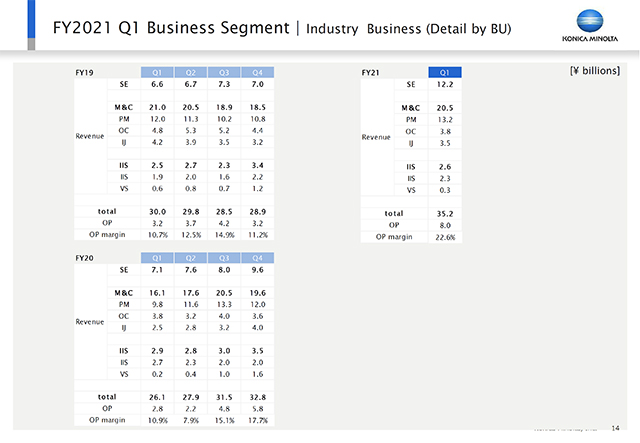 Please refer the slide to confirm the transition of sales by each unit in Industry Business.
15/21
The slide shows the cash flow status.
In supply chain management, we reduced the level of safe inventories due to the impact of COVID-19. And we have been able to maintain the level and respond to the demand. In Europe, our largest market, we have already implemented the use of AI for demand forecasts. We intend to further reduce inventories by expanding this method to Japan and the U.S. in the future, and by further expanding the applicable products. Through these measures, we intend to improve our cash conversion cycle, including inventory, and continue to improve our operating cash flow.
16/21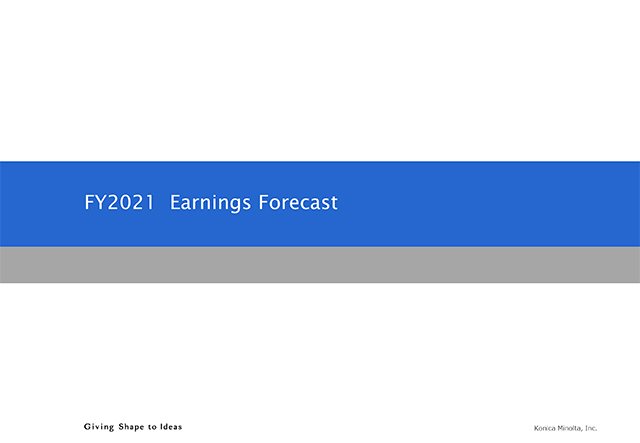 17/21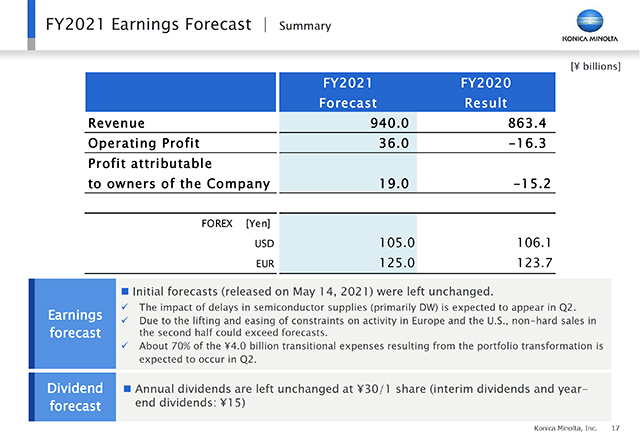 Earnings forecast for the fiscal year left unchanged from the previous forecast, as I mentioned at the beginning of this presentation. It is ¥940 billion for revenue, ¥36 billion for operating profit, including ¥4 billion for cost of the portfolio conversion, and ¥19 billion for profit attributable to owners of the Company.
Exchange rate assumptions have been left unchanged at ¥105 to U.S. dollar and ¥125 to Euro, because we concern that there is a possibility that an unexpected event may occur in the second half of the fiscal year.
I will explain about the quarterly trends a little. The global supply of semiconductors is tight, but this impact was avoided as much as possible in Q1. Though we are also pursuing strategic procurement, or dealing with substitutes, we expect the impact of this tightening of semiconductors to be more apparent in Q2 than in Q1 particularly in Office print.
On the other hand, as I mentioned earlier, toward the second half, non-hard sales are expected to recover slightly higher than 84% assumed at the beginning of the fiscal year, in light of the recent recovery in non-hard, particularly in Europe. Under these circumstances, we will clarify and implement what we should do for the portfolio transformation, which we have communicated since IR day last November. Approximately 70% of the 4 billion one-time expenses related to this portfolio transformation are expected to be recorded in Q2. We plan to firmly address the portfolio transformation actions to be implemented.
The interim and year-end dividends are unchanged at ¥15 per share for the interim and ¥30 per share for full year. We intend to firmly return profits to shareholders who support our medium to long term strategy.
18/21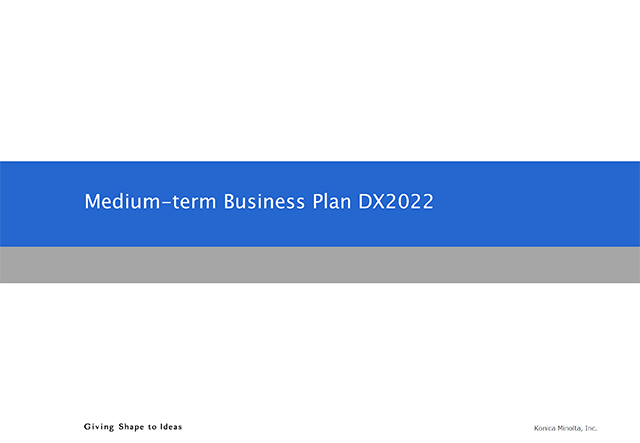 Regarding as our medium to long term strategy. As I mentioned at the beginning of this presentation, "DX2022," which we have called Medium-term Business Strategy to date, was approved at Board of Directors in May after careful consideration of the acceleration of the two portfolio transformation. Going forward, we will grapple "DX2022" as Medium-term Business Plan.
19/21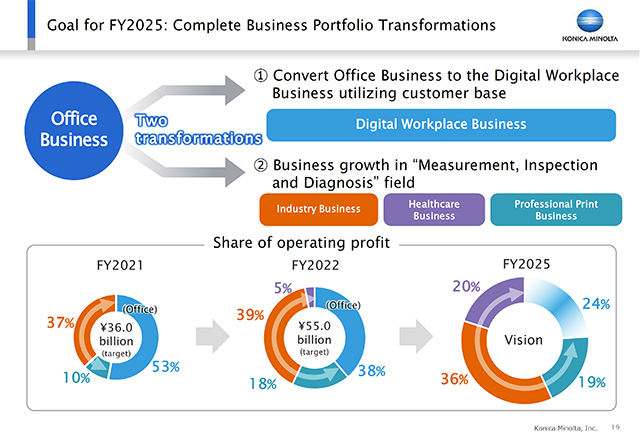 As explained in FY2020 financial results briefing session held on May 14, we will accelerate the two portfolio transformations and complete them in FY2025.
The first one is the transformation into Digital Workplace Business that provides IT services and Workplace Hub services to Office business customers and supports their digital transformation and work style reform. We will surely maintain the overall level by compensating the decline in office print by increasing DW-DX. This will be the content of the transformation that we should accomplish as Digital Workplace Business.
The other is that we have traditionally relied heavily on Digital Workspace Business, particularly Office business, but we turn this point around. In the areas of measurement, inspection, and diagnosis, we seize the business opportunities by the demand of safety, security, contactless, and personalization that have emerged from the impact of COVID-19. In this way, we will make the Industry Business, Healthcare Business, and Professional Print Business major pillars of our corporate growth. As a result, over half of the profit will be derived from Industry and Healthcare Business while increasing the absolute amount of profit in FY2025. We will change our profit structure, which had been based on a single business centered on conventional Office print. This is the second portfolio shift we need to accomplish.
20/21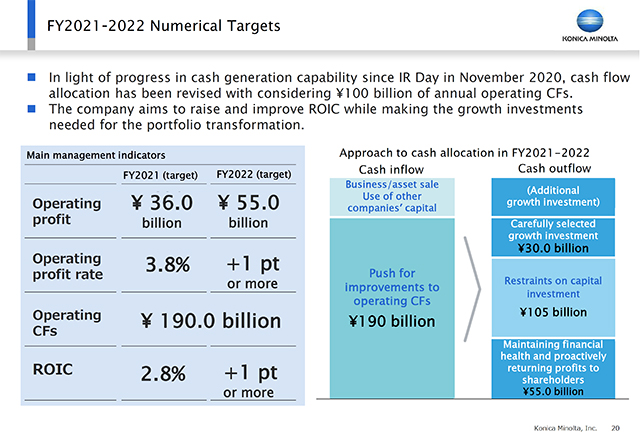 The final slide shows the numerical target for the current fiscal year and the next fiscal year.
Operating profit is ¥36 billion for the current fiscal year and ¥55 billion for the next fiscal year. Previously, this had been given as a managerial target for the next fiscal year. But there is no change to the numerical target of ¥55 billion.
We aim to increase operating profit ratio by 1 point to 4.8% in the next fiscal year.
Operating cash flow is approximately ¥190 billion over the 2-year period. In addition, we will maximize cash inflows by taking advantage of capital alliances to increase scale and to carve out non-core businesses and assets. We will invest ¥30 billion from operating cash flow in growing fields, such as Industry Business and DW-DX, as strategic investments needed to accelerate the implementation of the two portfolio transformations mentioned earlier. Some of this strategic investment will include strategic facility reinforcement in Performance materials. In addition, we change our capital investment approach from our traditional one. The capital investment in Office print will be controlled and restricted as much as possible. On the other hand, we will also use DX throughout company-wide to concentrate the allocation of capital investment to areas directly linked to our business growth. Taking into account the balance between growth investments and financial soundness, we will continue to pursue management aiming at achieving the operating profit of ¥55 billion with reducing liabilities and implementing shareholder returns centered on dividends.
ROIC is expected to rise to 2.8% in the fiscal year. We will strive to exceed capital cost early with the aim of improving it by more than 1 point in the next fiscal year.
Completing the portfolio transformation by FY2025 will be our most critical challenge.
Though we plan to make strategic investments of ¥30 billion over the next two years, depending on conditions and opportunities, we will actively consider advancing some of the strategic investments which we now anticipate after FY2023. While this could reduce the priorities of ROIC and financial soundness somewhat over the course to FY2025, we will implement the necessary things to transform our portfolio. We would like to engage in the management with an emphasis on this point.
21/21