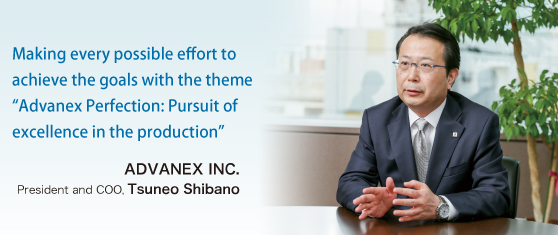 Net sales went up 8.8% compared with the term ended March, 2014 to 29,487 million yen, operating profit went up 31.8% year-on-year to 1,081 million yen, and ordinary profit went up 21.0% year-on-year to 992 million yen.
 Since the sales in the auto market, which is our core business, increased, the Group managed to post an increase both in sales and profits.
 As for the current term net profit, it went down 21.6% to 535 million yen, which is partly due to the fact that the Group posted minority interests in income following a sale of stocks of subsidiaries and affiliates.

 The largest factor is that all companies of the Group systematically promoted improvements and reinforcements of our business operations based on our medium- and long-term targets, which resulted in an increase in the collective power of our organization as a whole.
 I believe that by sharing the plan this way, we made it easier to manage the targets of each company of the Group, which greatly contributed to the improvement in business results of the Group as a whole.
 Moreover, the Group's business this year showed an unprecedented expansion, first and foremost represented by a substantial number of new customers Funabashi Electronics Co., Ltd. could find for its processing technology in deep drawing using the marketing force of Advanex, which surely is good news indeed.

 In our overseas operations, we strive to distribute our managerial resources most prudently so as not to miss any opportunities.
 I believe that particularly in China, our plants in Dalian, Changzhou, and Dongguan will show the projected increase in performance.  With the Shanghai plant, on the other hand, with its high personnel expenses compared with our other production bases, we intend to work on reduction of fixed expenses, at the same time examining possibilities to relocate the plant to Hangzhou near Shanghai, Qingdao, or some other area, which simultaneously would allow us to expand our operations to other areas of the country.
 With some exceptions, we have increased our sales in Asia; in Europe also orders for medical equipment have increased, which substantially contributed to both sales and profits.
 The area of medical equipment, as it concerns human lives, has very strict quality standards, but we have been steadily working in this area for over 10 years, and I feel that today we see our efforts bearing fruit.

 On the one hand, plastics business, which is the core business of Daiichi Kasei Holdings Co., Ltd., had been shifting towards large castings, and, on the other, spring business had been moving in the direction of precision processing, which is why the connection of the company's business with that of the Group got weaker than it used to be.
 Furthermore, recently we are seeing that compared with plastics, investments into precision springs business are more cost effective and yield higher rate of returns.
 Moreover, in plastics business, amount of capital investment required is much higher than in precision spring business, and it takes very long time for the investment to pay off.
 For Daiichi Kasei Holdings Co., Ltd. also it would be a better chance to grow if they teamed up with a company with capital strength, and thus the Group made a decision to transfer all holding shares of the company with the exception of the insert molding business, which initially used to be our core business, to ABICO Group.
 Meanwhile, Advanex will concentrate its managerial resources on the metal processing business, which is a business with high return on investment and high profit ratio.

 As we sold our plastics business, in this term, we expect sales of 19,800 million yen, a 32.9% decrease year-on-year, and ordinary profit of 860 million yen, a 13.4% decrease.
 On the other hand, as our plastics business, which was less profitable compared with precision springs business, is no longer included in the scope of consolidation, ratio of operating profit to revenue is expected to increase this term from 3.7% of the previous term to 4.4%.
 Excluding the plastic business from business results of the previous term, sales for this term are expected to increase by 12.3%, operating profit to increase by 14.4%, so the Group is expected to continue on an expansionary track.

 I have high hopes for sales in the auto market.
 Products for the auto market take a long time from planning to mass production, and launch of sales of a number of new products, orders for which we managed to get through our marketing efforts during the last several years, is scheduled for this term.
 I expect that these new products for the auto market will make a significant contribution towards increasing the sales in this term.
 Even more new products are expected to be launched in the subsequent terms, so we expect the Group to make a substantial growth in the auto market.
 On the other hand, with OA equipment (especially printers), the trend to limit the use of paper is getting stronger across the world, and there are indications that the market itself is shrinking. Still, with weak yen serving as a favorable tailwind in the previous term, sales did show a slight increase in this area.
 Moreover, we are currently recommending to customers the processing technology in deep drawing of Funabashi Electronics, which the Group purchased in the last fiscal year, and are actively marketing this technology in a wide range of areas.
 Thanks to this initiative, we received a large number of inquiries regarding this technology not only from the auto and medical equipment markets, but also from such areas as infrastructure, construction, agricultural implements, fishing implements and so on.
 Using these successful cases as examples, I believe that we can make a similar progress overseas during this term.

 Our mid-term business plan "Breakthrough to 2020" was announced in February of this year and the main theme of it is "Becoming an all-round manufacturer in metal processing".
 Based on four strategies, namely, area strategy, market strategy, product strategy, and merger-and-acquisition strategy, the Group's business objective is to achieve in the term ending March, 2020, that is, five years from now, consolidated sales of 35 billion yen, operating profit of 4 billion yen, and ROE of 22%.
 Details are listed on another page dedicated to the plan, so if our readers are interested, they can read up on it there.

 We have taken over the business from Funabashi Electronics on April 1 of this year, and both its employees and machinery have been taken over by the Advanex mainframe.
 Over the years, the Group has learned through its past mergers and acquisitions that to really achieve a synergistic effect as a Group we need to wear the same uniform, share the same dreams, and strive to become one big family.
 We know that we should not deal with other companies of the Group as mere subsidiaries, but take in everything, both the good and the bad. And when we are really together, the other company can play its role in the larger Advanex culture to the full of its capabilities.
 And the reason we purchased this business is our wish to strive for the same goals, share the same corporate culture with this new member of the Group.

 Both of the offices were established with a view to expand the Group's market channels in the auto market, and we shall put them to good use to enhance our services to the existing customers as well as to gain new clients. There are many Japan-based and U.S./Europe-based automotive parts suppliers who have established their bases both in Delhi and in Chongqing, China. The Group's policy is basically to accept orders for anything within our scope of business, and even if we cannot accommodate a client ourselves, we usually try to get the product through cooperation with other companies. We try to do our business so as to give our clients a sense of expectation, a feeling that if they consult Advanex, one way or another a solution will be found, and, in fact, were able to open many accounts that way.

 Groundwork is already completed, and the factory is due for delivery as planned in the end of October. From November, there will be a need for all kinds of construction work, such as wiring, and we will be able to move the machinery there only after this work is finished, so we believe that the plant will be launched in the beginning of the next term. We are very enthusiastic about it trying to make it the No.1 plant both in and outside the country in terms of manpower saving, optimization, and other measures, to make it really suit its concept of a 'smart factory'.

 In the mid-term business plan announced in February of this year, the Group set the target of increasing dividend payout ratio to 30% in conjunction with the consolidated business results.
 The dividend distributed for the term ended March, 2015 was 1 yen higher than the initial projection of 2 yen per share at 3 yen, resulting in the dividend payout ratio of 23.2%.
 It is the Group's intention to continue its hard efforts to live up to the expectations of our shareholders by achieving the goals of the mid-term business plan and increasing the dividend payout ratio to 30%.
 And I hope that you will give the Group further guidance and encouragement in the future.